Harrogate engineering and management consultancy Tate Consulting has completed work on a hat trick of multi-million pound projects for the world's biggest retailing brand, Walmart.
The latest in the series of developments is a £50m Asda chilled & frozen distribution centre in Bristol, and like its predecessors in Rochdale and Grangemouth, is one of the most environmentally sustainable buildings of its kind in the UK.
When complete it will have the capacity to pack around three million cases per week and will service 123 stores.
[sam id="4″ codes="true"]
Tate Consulting worked closely with developer Bericote Properties and McLaren Construction on the project and has delivered energy and sustainability solutions in addition to a range of additional services including infrastructure, building services and fire engineering.
Energy saving design features include a single skin construction freezer and cold store facility, and low energy occupancy controlled LED freezer and external lighting. Rainwater harvesting systems serve the refrigeration plant and toilets, reducing annual water consumption by 30%. The site also benefits from a Combined Heating and Power system which produces hot water and electricity.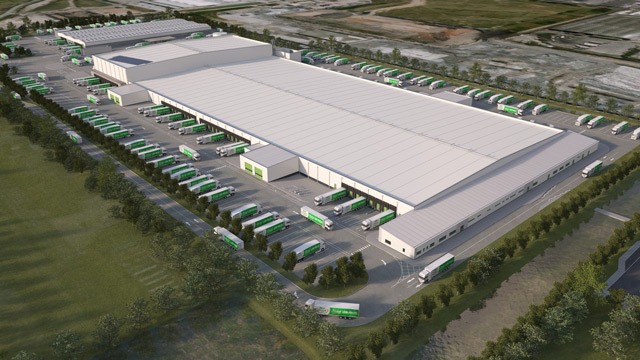 Targets met include a 28.5% reduction in annual energy consumption, a 26% reduction in annual CO2 emissions, a predicted BREAAM 'Excellent' rating and an 'A' rated Energy Performance Certificate.
Tate Consulting has worked with Asda over a decade, advising the supermarket giant on how to meet its target to reduce carbon emissions by 20% by 2015, as well as delivering core consulting engineering services.
Shane Tate, founder partner of Tate Consulting, said:

These distribution centres are among the world's most energy efficient buildings, creating a new benchmark for the construction industry and the environment.

Our core consulting engineering services focus on maximising value and minimising the environmental impact, creating change that will lead to value for our customers. It's our mission to make new and existing buildings as simple and as energy efficient as possible.

We're proud to be helping Asda – with over two million employees – achieve one of the world's most carbon efficient buildings. There can be few consultancies of our size delivering on such a scale and pace.