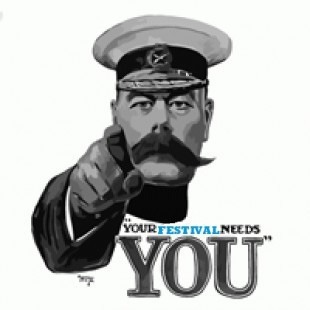 Do you have a passion for the arts and want to become involved in local cultural events?
Harrogate International Festivals is looking for enthusiastic individuals to join the team from 24 June – 29 July 2013 to help us run our exciting Festivals programmes. Festival Assistant volunteer placements are an ideal opportunity to gain valuable professional experience for those interested in developing a career in event management or arts administration.
Opportunities are available in the areas of stewarding, box office, office admin and the Festivals Street Team – a marketing team to help promote the Festivals activities. Full details of these roles can be found online.
Volunteering* with Harrogate International Festivals is a fantastic way to give back to the community and increase your employability. Plus it is a great opportunity to meet new people and have fun!
Just complete a simple application form available on the 'Volunteering' page.
Harrogate International Festival Assistant placements are five week full-time placements, which provide a comprehensive introduction to the wide variety of roles and tasks involved in running a nationally renowned multi-arts festival.
Simply download and complete an Expression of Interest Form from the Harrogate International Festivals website and send, along with a covering letter, to:
Email: info@harrogate-festival.org.uk
Post: FAO: Volunteer Co-ordinator, Harrogate International Festivals, Raglan House, Raglan Street, Harrogate, HG1 1LE
Closing date for applications: Tuesday 5th March
Festival Assistant roles are unpaid voluntary positions. As such the Festival is able to recompense for out-of-pocket travel expenses and make a contribution towards meals while volunteering. The Festival is able to provide accommodation in Harrogate for the duration of the placement, should this be required.