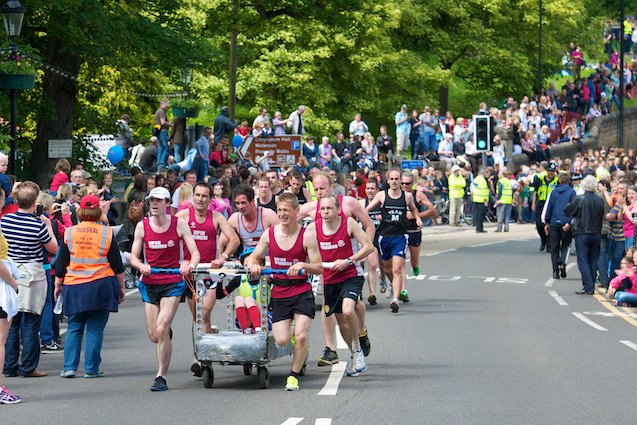 Organisers of the Great Knaresborough Bed Race, the Knaresborough Lions, have sent a reminder to teams planning to take part in this year's event to get their entries in by the end of February. The absolute last moment we can consider is the evening of the 28th, says Knaresborough Lions President Nigel Perry.
Nigel said:

The entry fee is £100 for adult teams and £60 for juniors.

As in past years we expect to hold a draw to decide who can take part as we will have more entries than the maximum 90 field places.

If we need one, the lottery will be held at 7pm on Wednesday March 6 at the Knaresborough Working Men's Club. All are welcome to attend to see the draw take place.
This the 48th year Bed Race has been held and it looks likely it will build on the fun of past years.
Nigel added:

The 2012 event was outstanding.

The bed decorations made the Parade one of the best we have ever staged. The Race itself was dogged by the wet weather of last summer and we nearly had to cancel the river crossing, the highlight for most teams and spectators. We had full-back position of ending the race at the river bank but fortunately did not need to change the course.

The decision to go ahead was taken on the morning of Bed Race day when the Nidd started to abate and the current lost its force. We introduced safety measures which slowed the finishing times for most competitors, but there was still fierce competition making it a specially great day in difficult conditions. It was all the better that there were no incidents and no one was hurt.
Entry forms are available on www.knaresborough.co.uk/bedrace/. This year's Bed Race has the theme 'Myths and Legends' and will be held on Saturday 8 June – come rain or come shine, say the Lions.