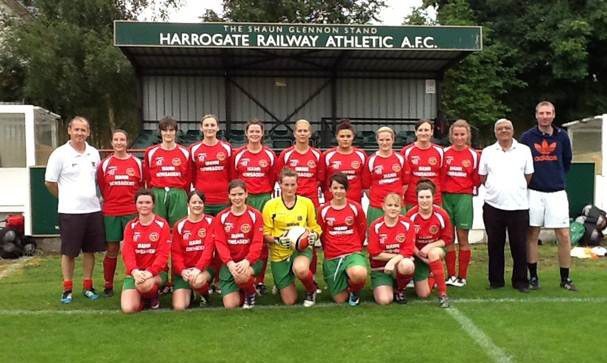 Harrogate railway Ladies found their winning ways today (3 February 2013) beating Wakefield 7-3 at station view in a league match.
After the last game the Railway ladies looked nervous from the start, this allowed Wakefield to settle into a good rhythm creating some good chances for them selves, however Railway got settled after their first goal came from Nicola Hadley sending a through pass which Lauren Taylor latched on to and lobbed the Wakefield keeper, 1-0, 20 minutes gone. This really lifted Railways confidence and 4 minutes later Sandra Clarke ran the ball down the left crossing in for Hannah Campbell to go one on one with the keeper and slotting home, 2-0.
Wakefield kept pressing but could not get past rails defence who were doing a fine job of close marking, right on the 45th minute Dee Swales found a inch perfect pass of 30yrds to Hannah who again drove the ball into the bottom right corner, 3-0, half time.
With a warning of don't get sloppy! Railway came out and looked lost, with poor marking at the back and a lack of control in the middle, Wakefield found them selves incomplete control scoring on 52minutes, 3-1.
Again Wakefield pressed hard and looked like they could score anytime soon, sure enough the pressure from Wakefield created a loose tackle in the box and a penalty was awarded on the 76th minute. Railways keeper Emma Prest went the right way but just could not get her hand on the ball 3-2.Railway finally found their feet and with Wakefield pushing forward Railway exposed the defence when on the 81st minute Nicola Hadley was rewarded after a great run slotted past the Wakefield keeper, 4-2.
Straight after the restart Ellie Macleod played out to Dee on the right who passed into the middle where Nicola played a through ball for Hannah who bagged her 4th goal, a great team goal, 5-2.
Wakefield were now deflated and a further two goals in quick succession from Hannah, 80 and 85 minutes the game was done. Wakefield did get a well struck goal on 89minutes but full time made it 7-3.
Railway are again at home next Sunday 1-30 KO against Farsley Celtic in the League cup.