The Secretary of State for Transport, Patrick McLoughlin, has set out his initial preferences for Phase Two of High Speed Two, which is for the development and construction of new high speed rail lines extending north of Phase One (between London and Birmingham) to Manchester and Leeds (via stations in the East Midlands and Sheffield).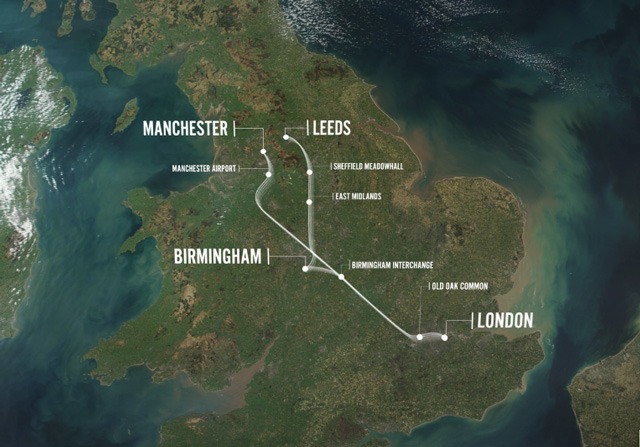 Andrew Jones MP for Harrogate and Knaresborough said:
I welcome the Government's announcement that the second phase of high speed rail is coming to Leeds. We knew that it was coming to Yorkshire, but today's announcement that there will be a High Speed Station in the centre of Leeds is excellent news. Our rail industry is a success, carrying more and more people and freight, but we don't have to look far ahead to see that our Victorian infrastructure will not be able to cope.
We have not built a new railway line to the north since the nineteenth century, so it is no wonder the system is struggling.
That is why more rail capacity is vital. HS2 will allow people to travel round our country much more easily, it brings economic benefits by creating easier access to markets for Yorkshire businesses and visitors will be able to get here quickly and conveniently.
For example, the journey time from Leeds to Birmingham will be reduced from two hours to 57 minutes and it is estimated that 13.5 million journeys by road or air every year could be transferred to the rails – an enormous impact in terms of carbon emissions.
This investment should be seen alongside the other huge transport investments announced recently, such as the electrification of the TransPennine line and the Northern Hub project, which together will transform rail in the north.
For too long the north has been the poor relation, but that is being corrected under this government. Here in Harrogate and Knaresborough, we will see the benefits of the economic growth that will flow from this investment. We also need to see local transport plans and investment reflect the arrival of HS2.
Responding to today's announcement of the High-Speed rail route and the proposed location of the city region's station, Leeds City Region LEP Chair, Neil McLean said:
Today's announcement on the location of a station in the heart of our city region is great news for our businesses and the economy.
HS2 will bring real benefits to all our cities by freeing capacity on the existing local rail network and improving connections to the capital and European markets, which in turn will shape business investment decisions and enhance our competitiveness on the world stage.
However, in order to ensure that this investment makes a real difference to our economy, it needs to be supported by rail and road enhancements that will aim to improve connectivity between our cities and towns and we need it delivering as a priority.