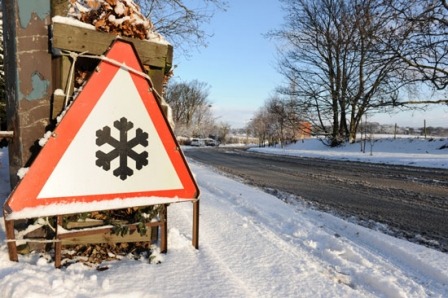 With snow and icy weather forecasted to sweep into the region this weekend, North Yorkshire Police is advising drivers to take every precaution to keep safe.
The cold snap is predicted to last around two weeks so it is important to be prepared and respect the dangers that such conditions can bring.
Inspector Vicky Taylor, of North Yorkshire Police's Roads Policing Group, said:

If your route is affected by snow or ice, the first thing you need to consider is whether or not your journey is actually necessary. If it isn't essential and alternative work or personal arrangements can be made, then don't go – simple as that.

If you have no choice and have to travel in wintry weather, it is vital to give yourself more time, take extra care and adjust your driving to the conditions. This could be lowering your speed, increasing breaking distances and making sure lights are on even during the day. The phrase that is often used in these circumstances is 'drive to arrive', and that is exactly what your priority should be. On treacherous roads, it is literally a case of better late than never.

It is also vital to ensure your vehicle is well maintained and prepared for the conditions. This includes filling the tank with fuel and stocking up on de-icer, windscreen wash and scrapers to make sure you can see the road from all angles. It is advisable to carry a torch, warm clothes or a blanket, boots, first aid kit, shovel and a tow rope. Also make sure you take food and drink with you, especially on longer journeys.
For more information about winter driving advice, please go to the North Yorkshire Police website: www.northyorkshire.police.uk/winterdriving
Latest traffic information about the A1, A64 and A19 is available from the Highways Agency website http www.highways.gov.uk/traffic-information
Details of local road closures are available from North Yorkshire County Council's website www.northyorks.gov.uk and City of York Council website www.york.gov.uk
Or tune in to local radio for the latest traffic and travel reports.