The Royal Horticultural Society (RHS) garden near Harrogate, RHS Garden Harlow Carr is home to a new art exhibition after it worked with 12 local schools on a project to engage children with the garden and to encourage use of its free teaching facilities.
The schools involved form part of the Harrogate and Rural Teaching Alliance, a group that works at improving learning for all pupils through collaborative partnerships. The young people involved will now have the exciting experience of seeing their work displayed in the Harlow Carr's Bramall Learning Centre.
Catherine Baxter, Learning and Interpretation Manager at RHS Garden Harlow Carr said:

The children were set with a brief to create an artistic wall tile to be displayed permanently in our learning centre.

After taking inspiration from the garden by collecting drawings, rubbings, photographs and plant material, they were able to complete their work in the classroom.
The project was the brainchild of Jo York, freelance Arts Education Consultant. Jo and Gill Owen, Education Officer at Harlow Carr, started the project with a teacher-training event for all the participating schools last summer, which demonstrated a range of techniques, ideas and approaches. The children then visited the gardens in September, when they were able to make full use of all the facilities including the teaching spaces, greenhouse and the gardens themselves.
Jo York said:

The tiles are incredibly varied and beautiful.

They reflect the hard work and commitment shown by all the children and teachers involved, and what's especially great is that each tile is a unique and individual response to the brief.

This kind of project is particularly exciting and important because it gives young people the experience of thinking and working like a professional artist; to be commissioned to produce a piece, to follow a brief, carry out research and experiment with ideas, and to produce their work to a deadline.
The culmination of the project was a celebration evening on Wednesday 12 December, when all the children were invited with parents and teachers to a private viewing of the exhibition.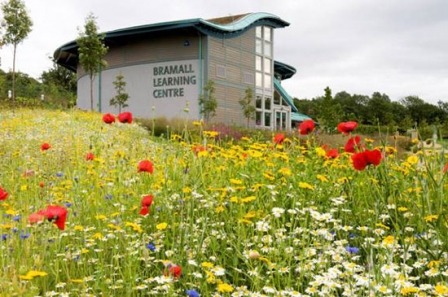 Catherine Baxter said:

Having access to Harlow Carr has been invaluable to the schools and I hope they will carry on making as much use of the free teaching resource as possible.
Our whole education programme reflects the garden and is built around the school curriculum, from maths to science to art and English. Anyone interested in finding out more is welcome to get in touch."
Since opening in March 2010, the Bramall Learning Centre has had more than 31,600 educational visits, including trips from primary and secondary schools, Brownies, Cubs and other children's clubs, as well as visits from higher education students at university and further education colleges.
For more information about educational visits at RHS Garden Harlow Carr, please contact the education team on 01423 724646 or at schoolsharlowcarr@rhs.org.uk