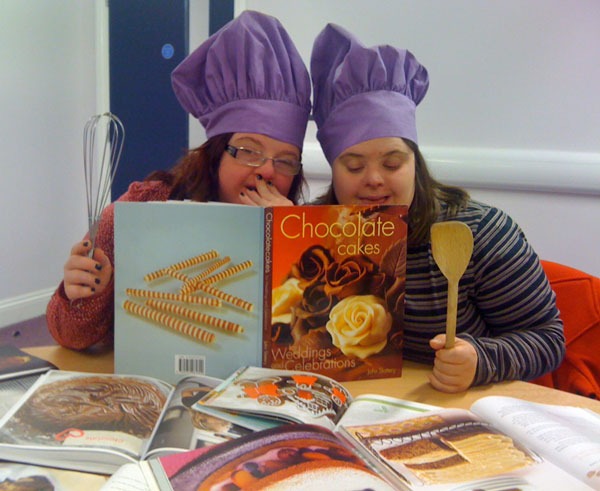 It's ready, steady, cook for participants from a Harrogate-based arts education group. The fundraisers, from the not-for-profit social enterprise Purple Patch Arts, are hoping to raise enough money to smash their campaign target of £3,000 before Christmas with a baking marathon on Thursday 20 December.
They are fundraising to buy new art materials and to be able to offer bursaries for transport and workshop fees to help more people attend weekly activities, including the Harrogate programme which runs on Fridays. They have raised almost a third of their target already through sponsorship of the Bake-A-Thon, and by being part of the Government-backed Local Giving match-funding campaign, Grow Your Tenner. The organisation has also been chosen to be 1 of 3 'good causes' for Waitrose Community Matters this month at the Harrogate supermarket on Station Parade.
Purple Patch Arts Company Director Vicky Ackroyd said:

It's important to us that we find inclusive ways to fundraise together and cake is a universally shared interest! We're very excited about our Bake-A-Thon and feel sure we'd give Mary Berry a run for her money!
The general public are invited to join the fundraisers to enjoy the results of 8 hours of cake-baking at an Afternoon Tea Party at Harrogate Friends' Meeting House on Thursday 20 December at 4pm, and to make donations towards the campaign.
Harrogate-based fundraiser and regular participant Felicity Bagley said

I shall be making my very special brownies to sell at our Bake-A-Thon. I've made them before and everyone loves them.
Purple Patch Arts work with children and adults with learning disabilities in Harrogate. They use creative arts to increase confidence and independence. Having started providing weekly arts workshops in Harrogate in 2009, they now run lifelong learning programmes for adults with learning disabilities across Yorkshire and the North West.
For more information please call or text 07725 041801 or visit www.purplepatcharts.org