Staff at Carefound, a specialist provider of home care and  dementia care services in Harrogate, Ripon and Wetherby, are making the extra special effort of taking Christmas to their clients this year. Each of the team's home carers are delivering Christmas cards and mince pies to the elderly people they care for, ensuring they can celebrate the festive season with the individuals and families they spend so much time with in delivering their professional home care and dementia care service.
Oliver Stirk, Director at Carefound, commented:

Our home care team go to huge lengths in seeking to provide a genuinely personalised service of care to our clients. We are extremely proud of the work they do and it is great for them to be able to enjoy a part of Christmas with the people they support.

Activities like this reflect how we are trying to change the way care is delivered in the community and will also contribute to fighting isolation and loneliness that so many elderly people experience at this time of year.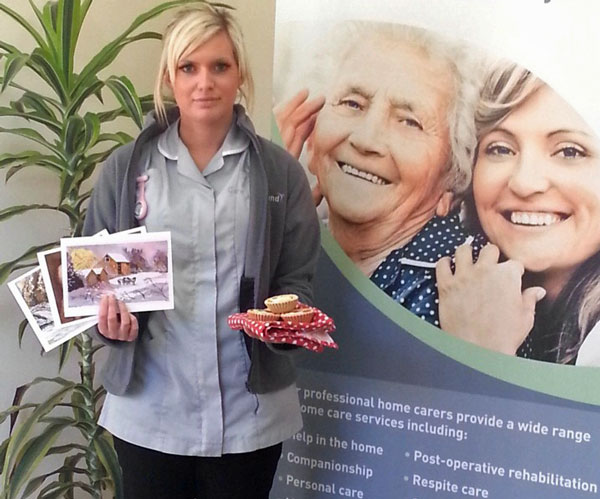 Carefound recently held an event at their Harrogate office to celebrate their achievements during 2012. The team was joined by local MP, Julian Smith, as well as families they help and representatives from local community organisations including Alzheimer's Society, St Michael's Hospice, Dementia Forward and North Yorkshire County Council. They were all very complimentary of the professional team of home carers at Carefound and praised the efforts they go to in helping elderly people remain in the community. They were also delighted to hear about the specialist dementia care training introduced across the Carefound team following its recent collaboration with the Contented Dementia Trust.
Oliver added:

It was great to celebrate the achievements of our home care team over the last year. We have established a fantastic group of people here at Carefound and the dedication, professionalism and hard work of our home carers is what enables us to offer excellent levels of care to our clients and the families we help.

When we opened in 2011, we were keen to ensure that we could be as flexible as possible in meeting the needs of our clients – it was therefore important for us to be our own entity and not part of a wider organisation or franchise. On reflection, this was a great decision and has enabled us to take innovative steps such as developing our specialist dementia care service based on the Contented Dementia Trust's SPECAL method. We now look forward to launching quarterly Understanding Dementia events in the New Year which will be an opportunity for families to not only learn more about helping people with dementia but also share experiences with others who face similar difficulties.
Gareth Marland, Solicitor at Berwins Solicitors in Harrogate, commented during the visit:

It's heartening to see an organisation building links with charities and other institutions who focus particularly on the needs of elderly people. I was particularly impressed with their commitment to training their staff in new concepts such as the SPECAL method for individuals with dementia; not only do their clients receive the benefit but their home carers have a much greater insight into the condition. They have made a great success of their first year and our clients that use their services all give excellent feedback.