Harrogate Railway Ladies were away today (21 Oct 2012) against Pontefract in the first round off the County Cup.
As before, Railway were going to set out their stall and straight from kick off put pressure on the Pontefract defence, when the ball was first cleared it only went as far as Captain, and player of the match, Ali Purvis who played it straight to Hannah Campbell who in turn shot a fantastic strike across goal into the far corner after only 3 minuets, 0-1.
Again Railway applied good pressure from the re start not allowing Pontefract out of there own half, with 3 corners taken it was a matter of time before rails second came along. On the 11th minuet another quality corner was sent in and Nicola Hadley rose above every one else to head in the second, 0-2.
An early substitution was needed after 14 minuets when rails Natasha Martin twisted her ankle and Ellie Macleod came on in her place, this did give Pontefract a chance whilst railway settled and forced a good save from Emma Prest.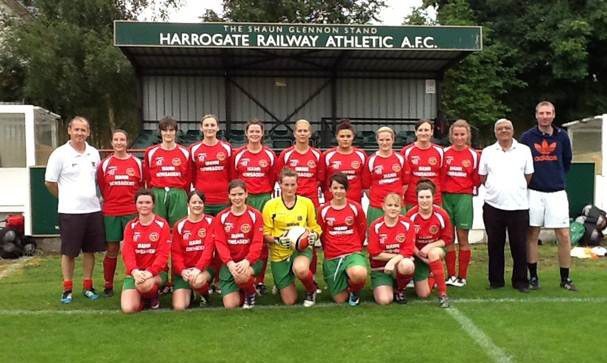 On the 20th minuet Hannah had the ball to feet and turned and dodged through the Ponte defence and let off another thundering shot, the Pontefract keeper did well to save but could not hold onto the ball and the loose ball was calmly put away by Martina Petrova for her first this season,0-3.
Railway were well on the way to victory but there play was not as good as it could be with some sloppy passes creeping in to their game and this did give Pontefract some chances. However, after 30 minutes Railway were gifted a penalty for hand ball and Dee Swales stepped up to the mark and nicely put it into the low left corner, 0-4.
Pontefract were not going down without a fight and worked hard all the game and on the 41st minute got there reward with a good goal from the right just beating the railway keeper, 1-4, Half time.
The second half was a bit messy in terms of 'nice' football but railway kept the upper hand throughout. On the hour Issy Rowe delivered a great cross from the corner flag finding Dee who thumped in her second and Railways 5th, 1-5.
Kathrine Swinn came on for injured Sandra Clarke after the 66th minute and did well at full back. Railway won yet another corner on the 70th minute a goal mouth scramble ensued it was eventually cleared but only as far as Ali Purvis who sent it straight back in at high level and Pontefract were deemed to have hand balled again, penalty. Hannah was the one to claim the chance and again well beat the keeper low and hard, 1-6.
The match was well and truly over by now and as the fog rolled in the clock just ran down to the final whistle. A good win for Railway but not the best performance by far, still through to the second round, well done Ladies.
Railway play Pontefract again next week at Station View in the league KO 2pm please come along to support the only Ladies team in Harrogate.