Harrogate and Knaresborough MP, Andrew Jones, visited BNL Limited's Knaresborough headquarters as part of a campaign to promote the manufacturing importance of the UK plastics industry.
BNL are a world-leading designer and manufacturer of specialist plastic bearings and assemblies employing over 90 people in Knaresborough. The visit was aimed to highlight the role of the UK plastics industry in the manufacturing sector and the issues the industry is facing.
Derek Mansfield, CEO, and Mark Watkins, EMEA Sales Manager, presented an overview of the company and the challenges and opportunities faced by BNL in the current business climate.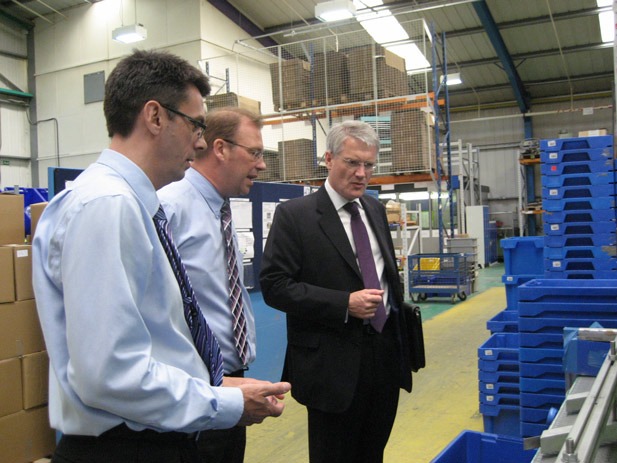 The discussion was followed by a tour of the Knaresborough factory, New Technology Centre and New Product Development centre, where he met one of BNL's current apprentices and saw the investments BNL have recently made in technology, processes and equipment.
BNL told Andrew of the challenges of attracting manufacturing talent to the area.
Andrew commented:

It is vital that companies like BNL are able to find employees with he right skills to help their business grow.

This is important because without business growth the number of jobs – particularity for young people – will be limited.

In Harrogate and Knaresborough we are fortunate to have an unemployment rate where there has been a decrease in the figures every month this year.

Companies like BNL are part of the vibrant mixed economy of the district which enables this good record on employment to continue.

I would like to thank BNL for hosting my visit and showing me the work they do.
Derek Mansfield said:

The key challenges for our industry are the accessibility of investment funding and maintaining our key manufacturing skills.

Our ability to develop and innovate relies on investment and growth for our business, as well as our customers' businesses.