Two Harrogate Hospital Radio DJs will be broadcasting their weekly show not from the comfort of a studio chair, but from a treadmill in a local fitness club.
For Scott Wall and Shaun Gill – who are aiming to raise £3500 for the charity broadcaster by shedding 35lbs each – will be hoping to speed walk 35 km over the duration of the their three hour Musical Memories show, on Saturday, 11 August.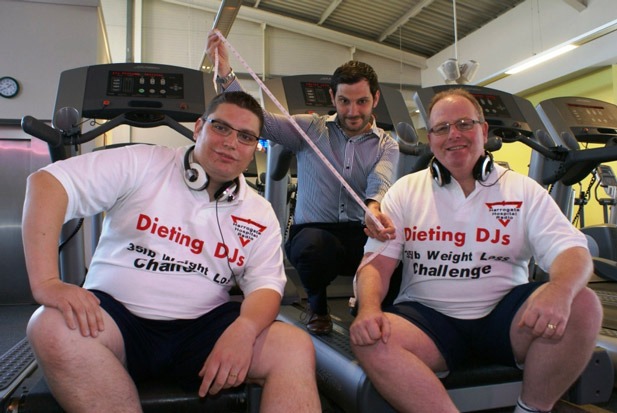 To help the pair with their quest, members of staff at Nuffield Health and Fitness, on Hornbeam Park, have devised individual fitness regimes for the pair to follow.
In addition, anyone coming to support the radio presenters on the day, and donating £5 or more, will be given a free day pass to the club.
Scott said:

This is going to be a really tough challenge for us, and we are asking members of the public to come along and share their musical memories with us.

Broadcasting a live show from a treadmill will certainly be a first for us!
The other DJ in the mix, Shaun Gill, said:

We are grateful for all the support we have had, and I'm delighted to say we have reached the half way mark in terms of weight lost and money raised.
All people have to do is come down to Nuffield and donate £5 or more and they will get free entry for the day.
If you are unable to join Shaun and Scott on the day, the pair have a Just Giving page for donations, which is found at www.justgiving.com/dietingdjs Donations can also be made my texting "DIET99" and either £2, £3, £5 or £10 to 70070.
The pair's efforts can also be tracked on Twitter (@dietingdjs) and Facebook at Dieting DJs.
Anyone wanting to find out more about the charity radio station, and the work it does, should contact the studio on 01423 553 342.