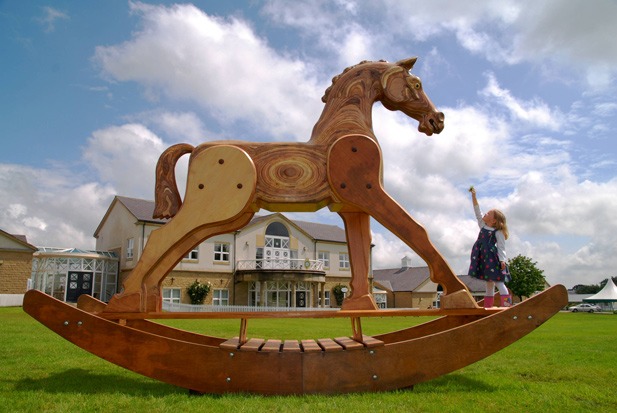 At less than one metre tall, four-year-old Lauren Batty was in the company of giants today (5 July) when she was one of the first people to see a massive sculpture arriving in Harrogate for the start of England's premier agricultural event, the Great Yorkshire Show.
For the second year running, the Yorkshire Agricultural Society has teamed up with Yorkshire Sculpture Park to bring two iconic sculptures to the three day show which begins on Tuesday.
And Lauren, whose mother Gail works at the showground, was given a sneak preview of what the show visitors will be able to enjoy during the event.
British-born artist Marcia Farquhar's 'The Horse is a Noble Animal', a giant wooden rocking horse, stands 3.5m tall, and was commissioned in 2010. Said Lauren: "It's so big, it's amazing. I love this horse!"
The sculpture explores the artist's childhood storytelling, when her grandmother would announce 'the horse is a noble animal' whenever guests would start to gossip!
And joining the giant wooden rocking horse on the President's Lawn is artist Sophie Ryder's 'Pink Lady Hare Dancing with Big Brown Dog'.
Nigel Pulling, Chief Executive of the Society said he was delighted to bring two more internationally-renowned sculptures to the Great Yorkshire Show.
Nigel Pulling said:

The sculptures proved incredibly popular last year and these two pieces of art are equally as eye catching. They are a superb addition to the show.
Peter Murray, CBE, Executive Director of Yorkshire Sculpture Park said:

Once again Yorkshire Sculpture Park is delighted to bring sculpture by two internationally-acclaimed artists to the Great Yorkshire Show.

As a pioneering organization that aims to challenge, inspire, inform and delight, Yorkshire Sculpture Park strives to deliver great art for everyone.