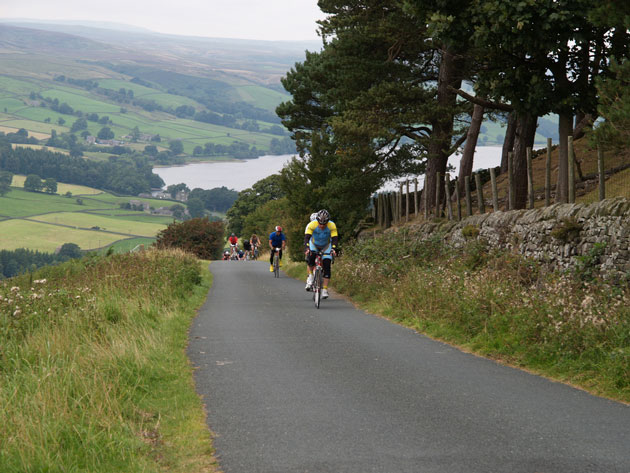 One of the largest annual charity events in the Dales – the Great Milk Stout Ride – has opened its registration for this year's event and organisers are hoping for a record number of participants to mark the bike ride's 20th year and to take funds raised for Macmillan Cancer Support to over half a million pounds.
Since its inception in 1993, the Great Milk Stout Ride has raised almost £450,000 for Macmillan, attracting cyclists and fundraisers from across the North of England to take part. The charity cycle ride will start from the showground in Pateley Bridge on Sunday 9 September this year, with a wide variety of family entertainment taking place in the showground throughout the day.
This year, participants will be able to choose from three different routes designed to suit all lvels of fitness and stamina. The X-treme 28 will see riders tackle some of Nidderdale's most punishing hill climbs, while the Full Monty offers a 20-mile ride along a route that takes in spectacular beauty spots including Brimham Rocks. For younger – or less intrepid – cyclists, the Half Litre ride provides a scaled-down, ten-mile alternative with its fair share of hills and plenty of fantastic scenery.
The event's chairman, Mike Holt, said:

The Great Milk Stout Ride is well and truly an institution and we're proud that it has grown to become upper Nidderdale's largest fundraising event. To celebrate this year's 20th Great Milk Stout, we're urging as many people as possible to get on their bikes and take part.

If we could get to that landmark £500,000 target for Macmillan this year, it would be a tremendous achievement and a testament to all those individuals and local businesses who have supported the Great Milk Stout over the past two decades.
Roohi Lupton, fundraising manager for Macmillan, said that the financial contribution made by the event had become vital to the charity's work.
Roohi Lupton said: 

The Great Milk Stout Ride has really grown tremendously over the past two decades and Macmillan has come to rely on the generous donations that the event has provided.

By raising over £450,000 for us, the Great Milk Stout ensures that vital front-line services, such as our mobile cancer information units, continue to provide support to people that desperately need it.
The cycle ride was born out of a challenge to see who could raise the most money for charity among the regulars at the Birch Tree Inn at Glasshouses. It was decided to donate the money raised to Macmillan Cancer Support, whose nurses provide care for cancer sufferers, and as a memorial to a local Glasshouses man – and friend – John Woodhouse, who had recently died from cancer and whose family had received essential support from Macmillan.
Since then the event, which takes place in September every year, has grown to become a fixture for hundreds of cyclists and charity fundraisers. Among the awards up for grabs this year are the Fancy Dress Prize, the Pub Shield and the Patrick Bickers Memorial Trophy for Corporate Teams.
To sign up for the 2012 Great Milk Stout Ride and pledge your support for Macmillan, individuals and teams should go to the event's brand new website at www.gmsr.co.uk