Harrogate has some strange, woolly visitors this week, popping up in unusual places. Residents may be puzzled to spy a number of model sheep lurking in shop windows, on park benches or riding about on the tops of cars.
In fact the sheep are doing an important job – they are there to remind people to 'flock to the festival'. CultureShock will take place at the Yorkshire Events Centre, Harrogate next week, for the only youth festival in the country to offer a four-day, greenfield-site experience.
As well as the sheep promoting the festival in Harrogate, 23 youth clubs across the county are customising their own sheep models, with the help of artists, for a display at the festival. The youth club at RAF Leeming for example has created a sheep disguised as an aeroplane.
The festival runs over four days from Wednesday 20th June to Saturday 23rd and this includes six main events: three schools days targeting 800 school students each day; the Big Dance evening on Thursday with dance performances from across the region, the Proms on Friday and the main festival event on Saturday. Hundreds will camp overnight on Friday and Saturday under supervision. Over 3,000 young people are expected to attend the main event.
CultureShock, which is now in its 11th year, promises a bumper programme of shows and projects.
Produced by the county council's Youth Support Service it involves young people from across the county at every stage of its organisation.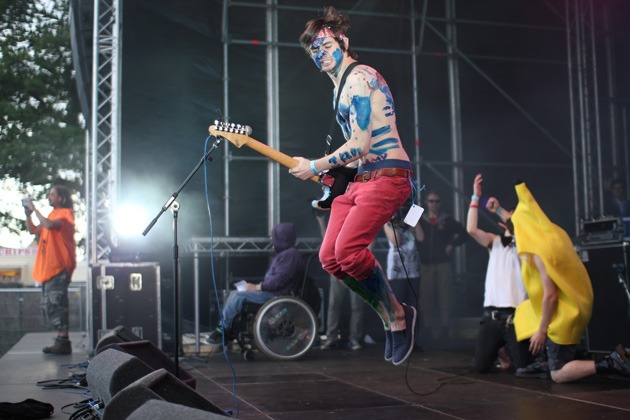 The aim of the festival is to allow young people across this rural, sparsely populated county, to attend a festival in a safe environment. It offers young people hands-on arts experiences as well as providing a variety of opportunities for young people to perform to their peers.
A huge range of music tastes will be catered for with performances on the Main Stage, the Urban Stage, the Tipi stage, the new open mic Shed Stage and on the 6k Vision Stage. There is also the FutureShock stage which showcases up and coming acts.
Rosie, a band which has been working with the youth service's Connecting Youth Culture for many years, is performing as the CultureShock headline band. They describe themselves as 'more energetic than a sack full of Haribo-fuelled-terriers' and are bound to get the crowd up on their feet.
The Cut Up Boys are the headline DJ act. With nearly a million copies of their Mash Up Mix series sold, the Cut Up Boys are back with a unique feast of sub-low frequency mash ups with their 11th album for Ministry of Sound.
Ruff Diamond are a fresh group of talented boys who recently auditioned for SKY 1's 'Got To Dance' and who will be performing during the schools days and at the main Saturday event
Eight local bands from across the county, who won area heats in a Kings and Queens of CultuteShock play-off, will also perform on the main stage alongside the headline acts.
This year there will be eight stages, five music stages, one dance stage, one theatre stage and one circus stage with over 150 different youth acts performing.
Young people can also enjoy the skate park, bungee trampoline, climbing wall, theatre tent, photo booth, rodeo bull, and visit the Big Top to watch top quality dance performances.
As well as performance opportunities, CultureShock offers a huge variety of workshops for people to take part in from digital animation to didgeridoo and the unicycle have-a-go course
Charlie Land, Festival coordinator said:

We believe we are offering something very special and unique with CultureShock. A four-day dedicated event like this on a greenfield site gives young people a real chance to submerge themselves in arts practice in the widest sense in a safe environment.
County Councillor Arthur Barker, North Yorkshire's Executive Member for the Children and Young People's Service said:

CultureShock has become a major event in the summer calendar for the region's young people. It gives our young people a chance to enjoy and learn about a range of arts as well as an opportunity to showcase a wealth of talent. We also keep ticket prices affordable so that as many young people as possible can benefit from all the opportunities on offer.
Tickets are available on the gate at £8 or from the CultureShock website www.cultureshockfestival.co.uk