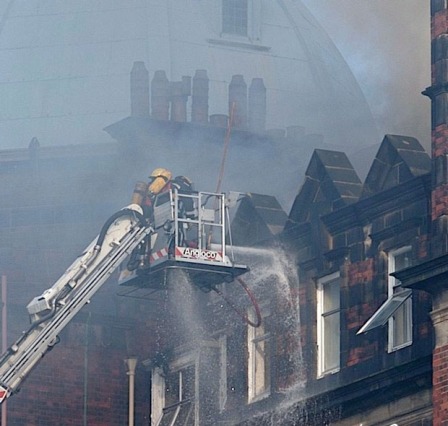 A coroners inquest into the death of James Nigel Butterfield during a fire at the Majestic Hotel in Harrogate has concluded that it was an accident.
All 132 guests and 25 employees were led to safety as fire talk hold in the 170 bed listed Victorian Hotel in the early hours of 5th May 2010.
The inquest was held at Conyngham Hall in Knaresborough and has lasted the week. The jury returned a non-majority verdict following 2 hours of consideration of the extensive amount of information discussed.
During the week the jury heard evidence from the Majestic Hotel manager, Vince Johnson, members of the hotel staff, fire investigators as well as fire fighters.
Robert Turnbull gave his thanks to the jury in coming to a conclusion on such a difficult case. He also expressed his sincere condolences to the family of Mr Butterfield.
A spokesperson for Barceló said:
This was a very tragic event which has affected us all. Our thoughts remain with Nigel's family and friends at this time.  Nigel was a kind and hard working member of staff at the Majestic and he worked for us for over 19 years.

We would also like to pay tribute to the swift action of the fire brigade, the emergency services, the local council and the local businesses who gave us tremendous support on the day.

The Majestic was significantly damaged by the incident but work is finally finished and the hotel is at last back at the heart of Harrogate.