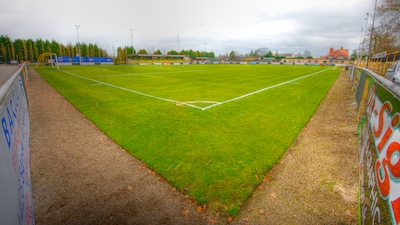 Harrogate Town went down to a 74th minute goal to Gloucester, at the impressive Whaddon Road home of Cheltenham Town.
After Town had dealt with two early Gloucester free kicks,it was their turn to threaten and an Ian Ross free kick was turned over the bar.
From the ensuing corner, Mike Green's weak punch out was stabbed wide by Richard Pell.
Pell then found Stephen Turnbull, whose through ball was gathered by Paul Brayson,who made room for himself, then forced Green to tip his rising drive over the bar.
Gloucester began to press and Ben Wilson had to get down quickly to save a vicious drive from Adam Mann.
Winger Charlie Reece began to create havoc down the right and twice set up chances for Will Morford,who fortunately for Town, squandered them.
On 38 minutes Peter Bore had to be replaced by Lee Elam as Town suffered yet another injury.
Pell and skipper Jake Picton were excellent at the heart of the visiting defence and it was only a goalline clearance by Picton that enabled Town to reach the interval all square.
A see saw start to the second half saw Wilson save Tyler Weir's 30 yard drive,then at the other end Harrogate's Laurie Wilson forced Green into a diving save.
Town almost conceded when Wilson turned Darren Mulling's free kick onto the post,then managed to clear of the line.
Town then enjoyed a purple patch with Brayson just missing with a cross shot and sub Will Turl threatened with an header.
Liam Darville's centre found Brayson who squared to Elam,but his low shot screwed agonisingly over the bar off Tom Hamblin's boot.
That was as good as it got for Town.
On 74 minutes Wilson dropped a right wing cross and Darren Edwards swept in the rebound to put Gloucester ahead.
Town pushed Pell forward in an attempt to salvage a point and his late header found Brayson, but he couldn't generate enough power to beat Green.
As the game entered its final moments, a centre from the right evaded everyone but just missed the far post,for Gloucester to hang on for a win.
Town 1 Ben Wilson 2 Darville 3 Heckingbottom 4 Laurie Wilson(Meechan 83) 5 Pell 6 Picton (c) 7 Bore (Elam 38) 8 Ross 9 Brayson
10 Allan (Turl 68) 11 Turnbull
Subs unused 15 Bloomer 18 Radcliffe
Bookings Darville,Pell,Picton,Laurie Wilson.
Attendance 275