Leeds city centre's pioneering Street Marshals project – which puts licensed doorstaff on patrol alongside local police officers – is celebrating a successful first year where violent crime has significantly reduced.
The scheme involves premises with a vested interest in Leeds city centre's night-time economy paying for an additional member of doorstaff to patrol 'hot-spot' areas alongside police officers, police community support officers (PCSOs), and special constables.
The patrols take place throughout Friday and Saturday nights, and were launched with the aim of intervening in any incidents at an early stage to prevent injuries and reduce the number of arrests.
The scheme is entirely unique because the Street Marshals are funded by local businesses, rather than by West Yorkshire Police or partner agencies.
According to the latest figures, the scheme has led to 101 fewer people becoming victims of assault within Leeds city centre on Friday and Saturday nights, compared to the previous year.
Statistics show that the number of assaults committed within the hot-spot areas when the Street Marshals scheme is running has fallen by 40% on Friday nights, and by 38% on Saturday nights.
The scheme has also had a knock-on effect on other areas of the city, with assaults committed outside the 'hot-spot' areas falling by eight per cent on Friday nights and by nine per cent on Saturdays.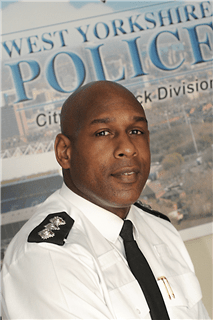 Chief Inspector Vernon Francis, of West Yorkshire Police's City and Holbeck Division, is responsible for policing in Leeds city centre and devised the Street Marshals scheme alongside police officers from the Leeds District Licensing Department.
Chief Inspector Vernon Francis
Chief Insp Francis said: "Keeping people safe in our city is an absolute priority and it is clear that the Street Marshals have had a major impact in reducing violent crime and making the streets even safer.
"Friday and Saturday nights are times when Leeds city centre is at its busiest, and it is important that people not only are safe but feel safe too. This scheme helps to do this, and it would not be possible without the fantastic support of the many local businesses involved.
"I believe the scheme could be introduced in other major cities across the country, and I would actively encourage others to learn from our successes."
The Street Marshalls patrols start with street briefings involving police officers and PCSOs from local Neighbourhood Policing Teams, along with Response officers, special constables, and officers from British Transport Police.
All doorstaff who take part in the scheme wear yellow high-visibility bibs which identify them as part of the teams, and are fully-registered with the SIA.