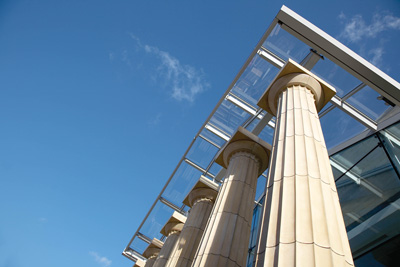 During the month when HIC welcomes Home & Gift, a trade show celebrating 50 years in Harrogate and attracting over 13,000 visitors, Harrogate International Centre (HIC), one of the UK's leading destination and event venues, has today announced the appointment of three new non-executive directors to its Board.
The appointments are aligned with the progressive, strategic development of HIC's business model, which culminates at the turn of the year with the completion of an £11million pound capital investment programme to complement its existing facilities.
Nigel McClea, Maggie Punyer and Richard Taylor will join the Board in late summer, with a very specific high level of expertise, to support the profile of HIC's core business. The profiles of the three non–executive directors are:
Nigel McClea: With a forty year legal career with Pinsent Masons Solicitors, latterly as head of the 350 strong Leeds office, Nigel is passionate about the Yorkshire region and is Harrogate born and bred. Educated at Ashville College and Queen's College, Cambridge, Nigel is currently Chair of Marketing Leeds, Chair of Leeds Ahead and a Trustee of the Hepworth Wakefield Gallery
Maggie Punyer: A recognised leader in the UK events industry for most of her career, Maggie has been bringing major conferences and exhibitions to Harrogate for nearly 30 years. Specialising in the agency and procurement market, spanning many different commercial sectors, Maggie is passionate about Harrogate as a destination and HIC, as one of the founding, pioneer venues of the industry
Richard Taylor: A founder member of the group of entrepreneurs that acquired a single fish and chip restaurant in Guiseley, Leeds in 1988 and transformed it into the global brand success , Harry Ramsden's, the world's most famous fish and chip restaurant company. Educated at Leeds Grammar School and the London Business School, his early career was with Grand Metropolitan, Jardine, Matheson in Asia and American President Lines in the USA
Angus Houston, HIC Director, commented, "In a time of significant change, and fluid and volatile economic markets, we are delighted to welcome Nigel, Maggie and Richard to the Board of HIC and look forward to the significant contribution that they are likely to give to HIC as a business and Harrogate as a destination. These are extremely exciting times for HIC, with the new exhibition hall development coming on stream shortly, alongside some fundamental strategic changes to our business model.
Don Mackenzie, Leader of Harrogate Borough Council and Chair of the HIC Board said: "These are very significant appointments to our board. Each new director has a proven record of success, which we are delighted to bring into the HIC at this time of challenge.
I am confident that we are in excellent shape to face the future, and to restore the business to profitability."
The appointments have been made at a time when HIC is witnessing a steady phase of growth. HIC has achieved a remarkable £180 million contribution for the local economy during the 2010/11 financial year, hosting around 150 events and attracting in excess of 290,000 visitors each year.