They might not have won X Factor, or the Eurovision Song Contest, but Jedward are riding high at a leading North Yorkshire independent prep school!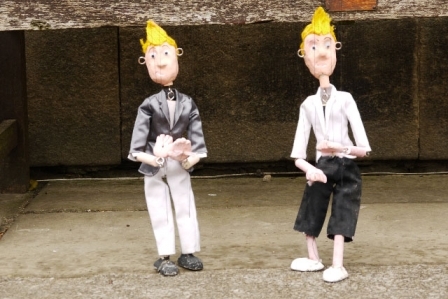 The twin brothers, who shot to stardom during Simon Cowell's TV talent show, have been turned into puppets by pupils at Belmont Grosvenor School in Harrogate. With their wild blonde hair and sharp suits, John and Edward Grimes were some of the stars of a recent puppet show at the school, written entirely by the pupils.
Year 6 pupils at the co-educational prep school, based at Swarcliffe Hall, Birstwith, Harrogate, created a wide range of marionettes as part of their DT studies.
Using wood, clay and other materials, the pupils spent time creating 20 puppets and then wrote three separate plays to show their fellow students at Belmont Grosvenor their marionettes in action.
As well as Jedward, other puppets which took to the stage included Wallace and Gromit, Homer Simpson and Barbie. Belmont Grosvenor School is an independent prep school set in 20 acres of grounds on the edge of the Yorkshire Dales. The photo shows, from left, Georgina Garnett, 11, of Darley, and Lucinda Ward, 11, with their Jedward puppets.
from left, Georgina Garnett, 11, of Darley, and Lucinda Ward, 11, with their Jedward puppets