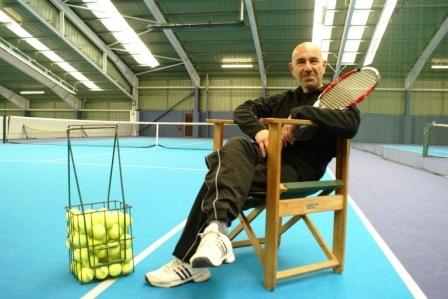 One of Yorkshire's leading health and fitness clubs has completed a £70,000 upgrade to its indoor tennis courts.
The work to replace the playing surfaces of four indoor tennis courts at The Academy – which is one of the largest private tennis clubs in the country – marked the completion of a phased, quarter-of-a-million-pound investment in the Harrogate club.
The courts, measuring a total of 2,500m sq, have been fitted with a two-tone blue "Foundation Carpet" manufactured by West Yorkshire-based Playrite, whose clients include health clubs, football clubs, schools and golf clubs around the UK.
The Academy Managing Director Philippa Shackleton said: "Our indoor and outdoor tennis facilities are recognised as some of the finest in the North of England, and attract players from all over the region.
"We are affiliated to the Lawn Tennis Association and, since opening in 1995, the Academy Tennis Club has helped shape a number of superb tennis players who have competed at a very high level and gained LTA clubmark accreditation.
"The fitting of the new playing surface is part of our ongoing commitment to provide our members with first class facilities and equipment, ensuring we maintain our position as one of the finest health and fitness clubs in the region.
"This marked the final stage of a phased, £250,000 investment for our last financial year, including new gym equipment and a major upgrade to the outdoor play area of our crèche."
Academy Senior Tennis Coach, Chris Paraskos said: "The new flooring has made a real difference to the games being played at the Academy. While some indoor surfaces can lead to relatively slow matches, ours is designed to be medium to fast, meaning more exciting tennis played at a quicker pace."