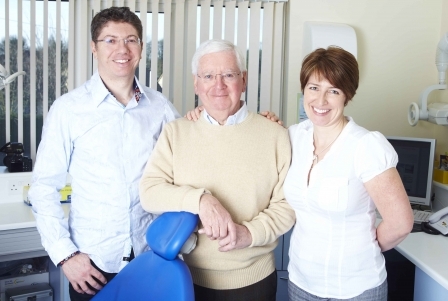 A leading orthodontist in Wetherby is helping to secure the future of a longstanding family business in the town.
Megan Hatfield of Wetherby Orthodontics has been instrumental in positioning a dental practice started by her father-in-law to allow for future growth and expansion.
Embracing change and preparing for the future is always a challenge for family businesses and although the name Cooke has been synonymous with dental care in Wetherby for decades thanks to Jack Cooke and his son, also called Jack, the family realised that significant investment was needed to keep the business at the forefront of modern dentistry.
At the cutting edge of that innovation is orthodontist Megan Hatfield, wife of Jack junior, who worked alongside her father-in-law in his original town centre practice and has helped position the business for growth.
"Five years ago we made a decision to look for new, larger premises to allow for expansion and modernisation," explains Megan. They bought a detached house on Deighton Road and started the long process of renovating it to create what is now Ashby Dental, incorporating Megan's business Wetherby Orthodontics.
"This site has allowed us to double the size of our general dentistry practice, which is run by my husband and his partner Richard Moon," says Megan.
"It has also meant we've been able to create dedicated consulting and treatment rooms for my orthodontic work.
"The project has been time-consuming and has required significant investment but it has given us a bigger, brighter and more up-to-date practice as well as enabling us to modernise our team and our systems."
Renowned for her approachable manner and her enthusiasm for new ideas Megan treats all age groups, from primary school children to pensioners.
"Most people think of orthodontists as specialists who fit children with braces but 50 per cent of my clients are adults, many of whom missed out on treatment as children and think they have left it too late.
"They are often nervous when they come in so a friendly and supportive approach is very important," explains Megan.
"People also appreciate being kept informed at every stage of their treatment and I believe in constant communication with my patients."
Megan's work has received national recognition. Last year two of her cases were shortlisted for the 2010 Smile Awards and she was highly commended for her treatment of a teenager with crooked teeth. She is also a MOrth gold medal winner and has been shortlisted in both the Private Dentistry Awards and the Dentistry Awards. This year she has a further two nominations in the Smile Awards.
"Recognition at this level is not only a fantastic endorsement of my work, it really helps to put Wetherby on the map as a leading location for modern orthodontics," says Megan, who believes innovation is key to the practice's future success. As well as ensuring she is trained to work with the latest products available on the market, including new "hidden" braces that sit on the backs of the teeth instead of the front, Megan regularly communicates with existing and potential clients using new technology.
"I confess to being a bit of a gadget geek and I'm a real fan of Twitter," explains Megan and she is always looking for new ways to use technology to make her work more accessible.
"Anything that makes it easier for people to get in touch and communicate with us has to be a good thing."