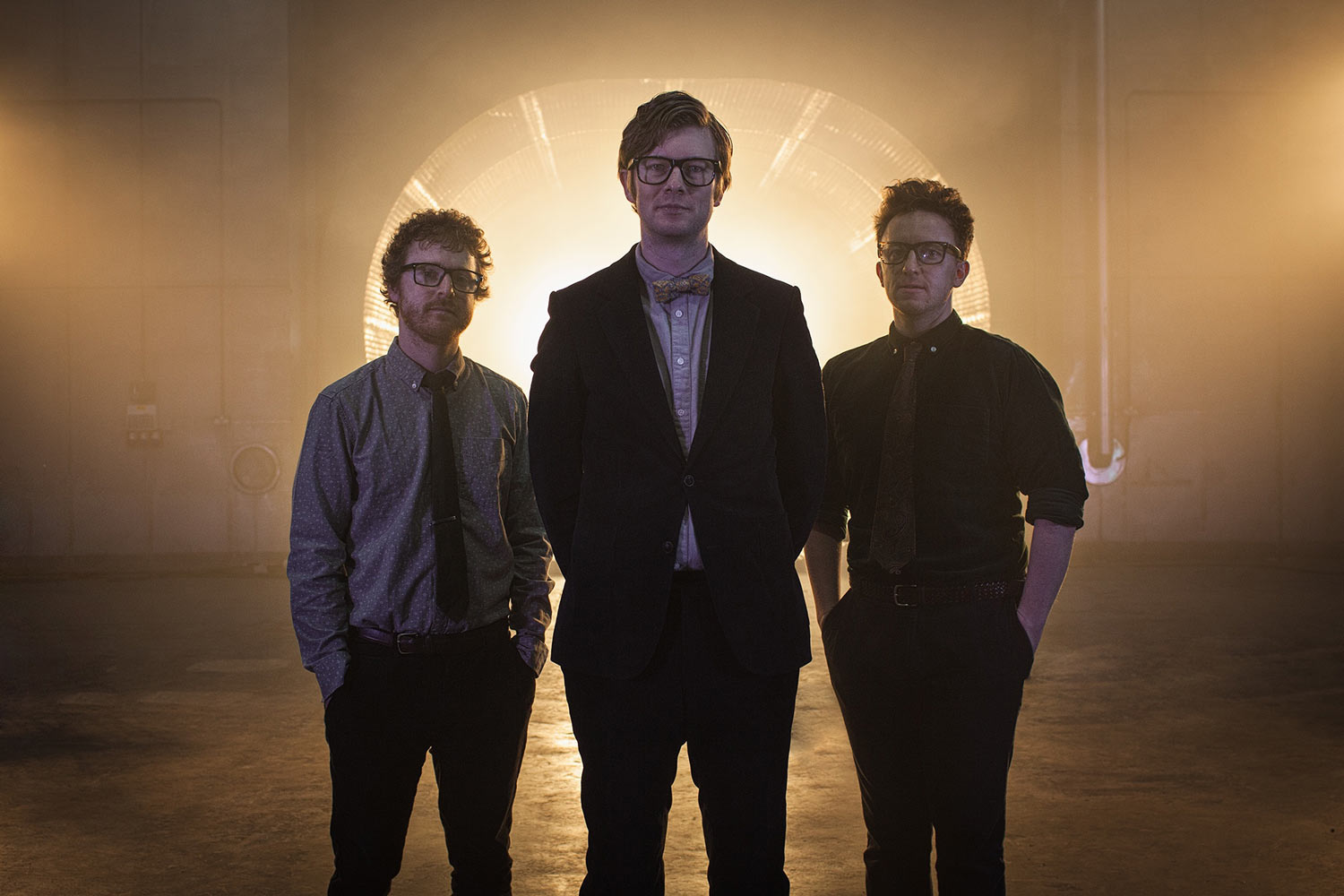 GOLDFRAPP, FIELD MUSIC (with the Open Here Orchestra),
PUBLIC SERVICE BROADCASTING & MORE
HEADING TO DEER SHED FESTIVAL 9
Line-up so far …
GOLDFRAPP / DRENGE / FIELD MUSIC (with the Open Here Orchestra) /
With very special guests… PUBLIC SERVICE BROADCASTING /
GAZ COOMBES / THIS IS THE KIT
NADINE SHAH / JANE WEAVER / BILL RYDER-JONES /
BLAENAVON / HMLTD / SCOTT MATTHEWS / DREAM WIFE /
ROZI PLAIN / SIVU / THE ORIELLES / WARM DIGITS / FAZERDAZE /
AK/DK / SLUG / REN HARVIEU / LOWLY / THE LOST BROTHERS /
SEAMUS FOGARTY / ANNA BURCH / THE NINTH WAVE / WHENYOUNG /
HOLY MOLY & THE CRACKERS / MUSH / RILEY PEARCE /
MORRISSEY & MARSHALL / PEANESS / MARVIN POWELL / SOHAM DE
BELLA GAFFNEY & POLLY BOLTON / MYLAR MELODIES
For stage/day splits & full descriptions (live from 10am, 1.1.18), please visit: www.deershedfestival.com/music
GOLDFRAPP and Field Music (with the Open Here orchestra) join Drenge as Deer Shed Festival 9 headliners, with very special guests Public Service Broadcasting and many more bands also announced.
Over what is nearing a twenty-year partnership in synth rock, Goldfrapp have remained consistent pioneers of electronic music. As recently as summer 2017, The Guardian wrote of Alison's performance at Sydney's warehouse-turned-music venue Carriageworks that, "Appearing on stage, backlit and washed in smoky red and blue […] she seems less like a rock star and more like a mysterious angel from the space age."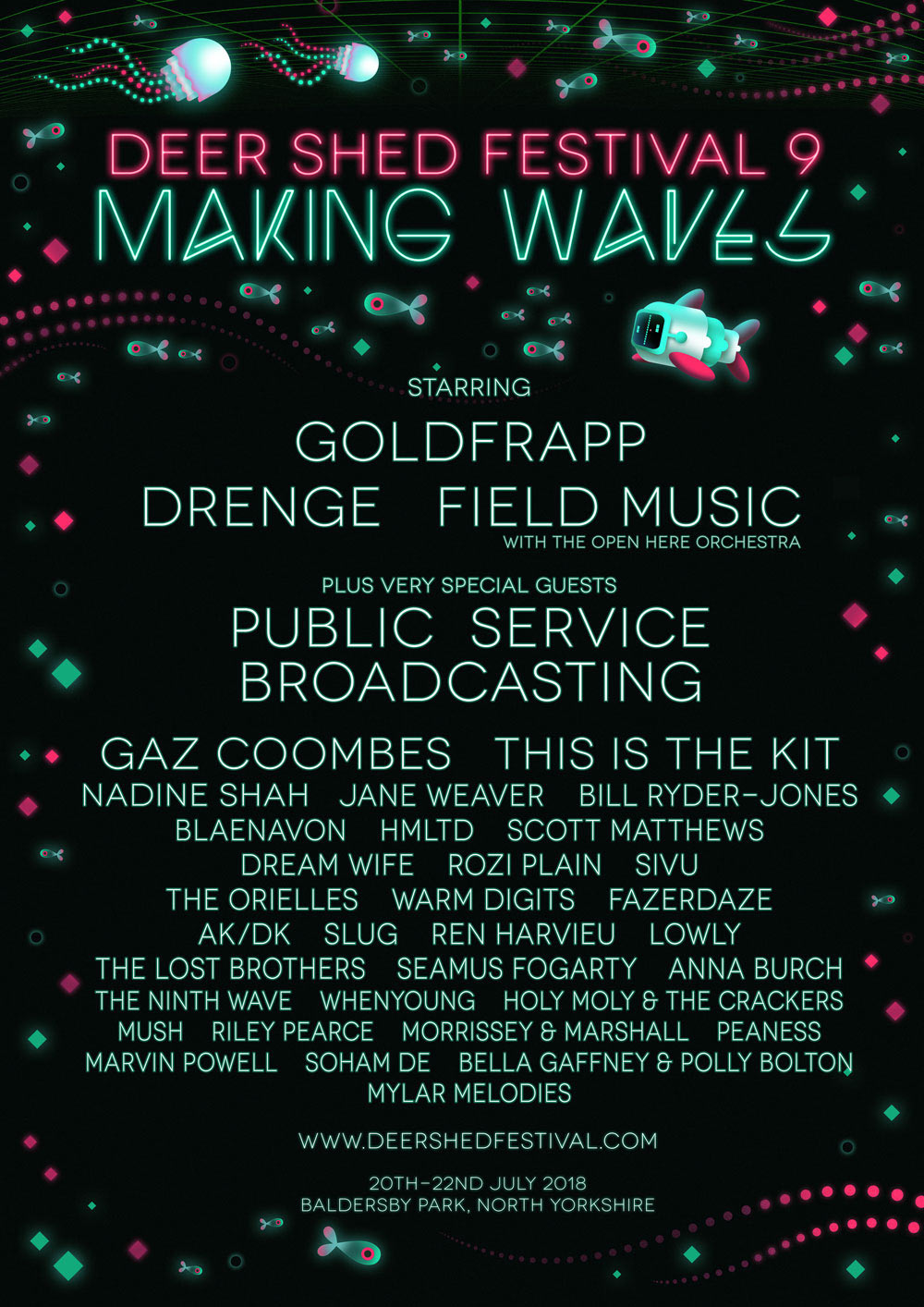 Never safe, always surprising and still finding room in her set for euphoric classics like 'Ooh La La', and 'Strict Machine', the festival team are utterly delighted to have finally secured Alison Goldfrapp – aka GOLDFRAPP – as Saturday night headliners for the Deer Shed Festival 9 line-up. A true superstar of contemporary British music.
Sunderland, Tyne and Wear band Field Music are one the Deer Shed team are always harping on about. In fact Oliver Jones – Deer Shed director – reckons nobody in the UK is making more interesting music! They're back in Baldersby Park this July, and this time they're bringing a whole bloomin' orchestra along in tow. The Open Here Orchestra will provide a fresh tinge of drama and depth to the already layered and syncopated synth rock anthems of Field Music, and this promises to be Sunday afternoon headline set like no other.
Some bands just belong in Baldersby Park. That was the feeling when the North Yorkshire festival booked a little known band called Public Service Broadcasting back in 2013. The release of two wonderfully crafted albums later and the main stage on a Saturday evening beckons. The long-awaited recipe for one of the most triumphant returns to the Deer Shed Festival's music line-up ever is ready. An awe-inspiring audio-visual experience Deer Shedders pretty much everywhere have been waiting patiently for, and my word it will be worth it.
Gaz Coombes also played a majestic set in Baldersby Park five years ago and he's finally back too! He's just released a video for his first single from his latest solo album World's Strongest Man, 'Deep Pockets'. The self-directed and edited clip features Gaz undertaking one of the trippiest Uber-pool journeys from the back of a cab in Los Angeles. World's Strongest Man is released on 4th May 2018, and its tracks will be performed live in Baldersby Park this July.
It's been an incredible 18 months for Fazerdaze aka Amelia Murray. Having released her critically acclaimed debut album 'Morningside' she has sold out debut shows across every continent, and been nominated for numerous awards in her native New Zealand. Fazerdaze's effortless sounding bedroom pop delivers bright melodies and earworms drenched in reverb – perfect for the Deer Shed Festival.
SLUG is Ian Black, another excellent musical export from the North East and a former member of Field Music. Black and his band have been a merrily disruptive influence on The North East music scene for over a decade, and are set to return to Baldersby Park after their fantastic set in 2015.
Humble by nature, Riley Pearce has an undeniable gift of leaving you respectfully in awe. The alt-folk artist, based in Perth, Australia truly follows an honest brand of song writing, performed with raw and often haunting vocals.
The Lost Brothers are an Irish musical duo who deliver songs that are hushed to the point where listeners are compelled to listen intently to their beauty and melancholy. They will play two sets: Saturday opening the Lodge Stage, and again the same day headlining the Pallet Stage.
Formed in Chester in late 2014, Peaness are the kind of instantly likeable, warm and creative people that can get away with their, frankly, scandalous name! Lucky really, as it's a name being spoken increasingly on radio. This indie pop three-piece are growing quickly into the big shoes that early press-hype has challenged them to fill.
Deer Shed are big fans of the roster for Skeleton Key, the independent Liverpool-based record label, and the latest act to be booked from it is Marvin Powell, a singer songwriter who trades in delicate, far-away, wistful melodies and dreamy imagery.
Soham De is a 20-year old singer-songwriter from Kings Lynn, Soham and is based in Durham. Still finding time to write and tour alongside his studies, he is making a name for himself amongst his contemporaries having been longlisted for Glastonbury Festival's Emerging Talent Competition 2017.
Acts already announced on the music line-up include Drenge, Nadine Shah, This Is The Kit, Jane Weaver, Bill Ryder-Jones, Blaenavon, HMLTD, Dream Wife, Scott Matthews, Sivu, , Rozi Plain, The Orielles, Warm Digits, AK/DK, Ren Harvieu, Lowly, whenyoung, Seamus Fogarty, Anna Burch, The Ninth Wave, Mush, Holy Moly & The Crackers, Morrissey & Marshall, Bella Gaffney & Polly Bolton and Mylar Melodies.
Acts already revealed for the comedy line-up include James Acaster, Justin Moorhouse and Daliso Chaponda.
Tickets are available from www.deershedfestival.com/tickets
Tier 2 tickets are only available until midnight on the 7th February, when Tier 3 tickets will be listed for £10 more.
Deer Shed Festival History
2018 will mark the ninth year of Deer Shed Festival. The team behind it have been in place from the start and families are at the heart of the preparations, the activities, and the services on site. In the last eight years we have grown in attendance but are always careful never to become too big.
Those eight years have seen a host of amazing artists perform including Kate Tempest, Billy Bragg, Johnny Marr, The Divine Comedy, Everything Everything, Richard Hawley, Beth Orton, Teenage Fanclub, Anna Calvi, Arab Strap, Steve Mason, Ibibio Sound Machine, Rae Morris, Kind Creosote, Cabbage, C Duncan, Lonelady, Edwyn Collins, Teleman, Villagers, I Am Kloot, Saint Etienne, The Wedding Present, School of Seven Bells, Honeyblood, The House of Love, Field Music and many more.
Our take on family friendly festivals
We might rant on a bit here, sorry.
If you go and watch a Pixar movie with your children, everyone has a great time. Not just your kids, EVERYBODY!!! We strive for this holy-grail every year.
We don't have kid's areas as such, they're not zoo animals! The whole site is accessible to everyone and we will welcome you as though you were our house guests, which you essentially are.
But we are a cultural event too and you will be exposed to many new things. We like new things. You might be challenged by some of them, but we want every family member to leave Baldersby Park inspired, if that's ok.
And finally, our music line-up, hitting you through extremely high-fidelity PA systems will be as thrilling and contemporary as you will find at any UK festival in 2018 – it's just that you can share that thrill with your kids and feel perfectly safe at the same time.
Oh, and if you don't have kids to bring, that's fine too xx
Deer Shed Festival Reviews
"This is a very big statement to make but I think that Deer Shed Festival could quite possibly be the best family festival in the UK." – Festivals For All (http://www.festivalsforall.com/article/deer-shed-festival-2016-review.)
"Deer Shed: The Ultimate Family Festival. A bold statement in the title, but one richly deserved and let me explain why…" – Subba Cultcha (http://www.subba-cultcha.com/reviews/1747.)
"Deer Shed isn't just a marvellous festival, but THE one to attend for families and people of all ages, sitting several notches above its northern festival counterparts." – Efestivals (http://www.efestivals.co.uk/festivals/deershed/2016/review-overview.shtml.)
"Right. Let's get something straight right from the start. Deer Shed 2016 was essentially perfect: a wondrous box of delights for young, middle and old alike." – There Goes The Fear (http://www.theregoesthefear.com/2016/08/deer-shed-festival-2016-review-part-1.php.)
"Just like an old friend, Deer Shed still remains reassuringly familiar, rewarding and an absolute pleasure to be around." – God Is In The TV (http://www.godisinthetvzine.co.uk/2016/07/26/festival-report-deer-shed-festival-7/.)
And most importantly, here's what our festival goers thought: https://www.facebook.com/DeerShed/reviews.
Come for free? Join our Love Deer Shed Ambassador Scheme!
If you already rave about Deer Shed to your friends and family why not be rewarded for your enthusiasm and join our ambassador scheme!
In a nutshell, for every 8 adult tickets you sell on our behalf we will give you a FREE adult ticket plus there are all sorts of other rewards to earn!
And if you have your ticket already or if you are keen to volunteer you can still benefit by gifting your FREE ticket to a friend.
Check the scheme out here: https://deershedfestival.com/ambassador
Current ticket structure – www.deershedfestival.com/tickets
Adult 16+ full weekend ticket (tier 2): £135 AVAILABLE
Adult 16+ full weekend ticket (tier 3): £145 NOT RELEASED
Adult 16+ full weekend ticket (tier 4): £155 NOT RELEASED
Child full weekend ticket (11 to 15): £50 AVAILABLE
Child full weekend ticket (6 to 10): £50 AVAILABLE
Child full weekend ticket (3 to 5): £20 AVAILABLE
Child full weekend ticket (0 to 2): FREE (ticket still required) AVAILABLE
Sunday night camping per tent or live-in vehicle: £50 (optional) AVAILABLE