This month, Harrogate Borough Council will open a six-week public consultation giving the community and key stakeholders a further opportunity to have their say on the district's draft Local Plan.
The consultation will provide the opportunity for residents, businesses, community groups, voluntary organisations and other agencies to comment on additional sites that will need to be included within the draft Local Plan in order to meet the requirements for new homes and jobs.
There will also be the opportunity to comment on the preferred location of a new settlement, which officers have recommended should be located in Green Hammerton, as well as gypsy and traveller provision in the district.
After taking into account the comments received during the consultation held towards the end of 2016 and the comments received during this additional consultation, the plan will be formally reported at a meeting of Full Council later this year.
Councillor Rebecca Burnett, Harrogate Borough Council's Cabinet Member for Planning, said: It is important that the community has the opportunity to comment on the additional sites and the preferred location of a new settlement. The Local Plan will allocate land to meet local needs for housing until 2035 so we are encouraging as many local people as possible to have their say on the future areas of growth.
A spokesman for the Harlow and Pannal Ash Residents Association said:

Of immediate concern is the continued speculative planning applications that we are seeing across the district due to an approved local plan not being in place.

We know from recent experiences that even when the council reject the applications they are then approved when appealed. The proposed delays in the new local plan will only lengthen this window.
Richard France, Managing Director of the Oakgate Group, which is promoting a new settlement option located around Cattal train station, provisionally called Maltkiln, commented:

We will be submitting further information and evidence during this latest consultation to demonstrate why our plans offer the best location for a new settlement in the Local Plan.

As well as feeding into the Council's consultation process, we will also be continuing our own dialogue with local communities around our site to get as much feedback as possible.

Maltkiln is the best option for a new settlement because it offers unique sustainability and has fewer constraints than the other sites currently put forward.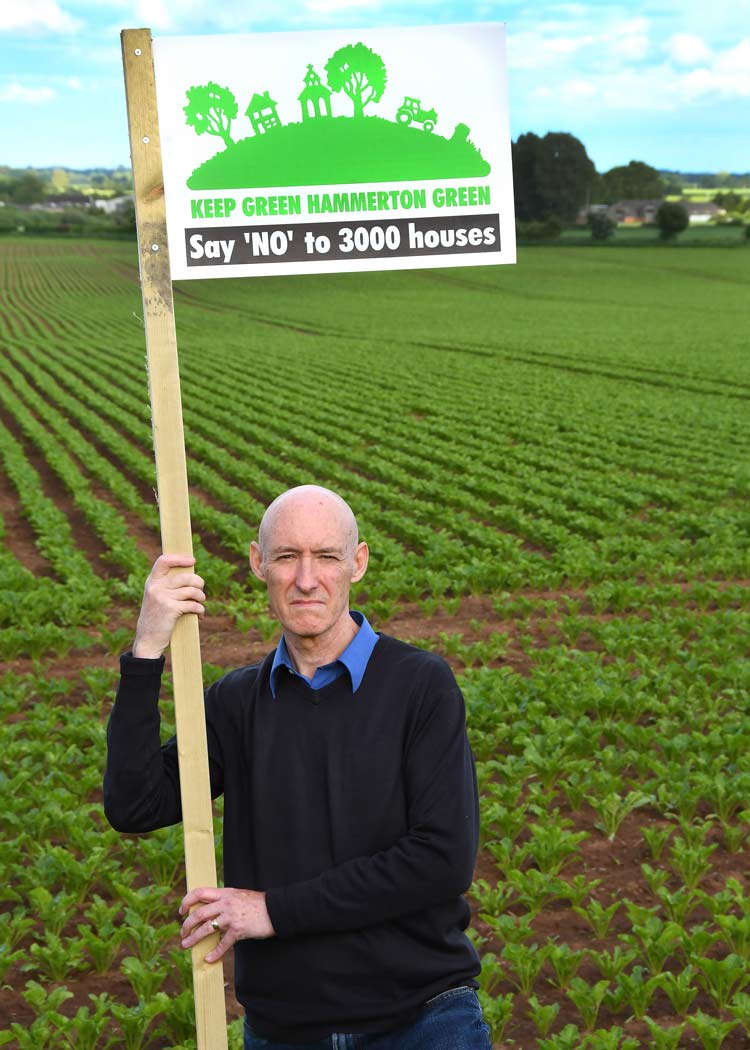 Chris Chelton, chair of Keep Green Hammerton Green Action Group:

We welcome any genuine consultation process. We have had not detailed explanation of the case for this recommendation over previous weeks and particularly want to hear why Harrogate Borough Council appears to be intent on building 3000 houses around Green Hammerton. The recommendation flies in the face of all the obvious planning grounds for the Flaxby Park development with its planned building and infrastructure, and an existing multi-million pound roundabout ideal to direct traffic to the site. The recommendation for a potential 3000 jobs on the doorstep in the form of a new business park strengthens the case that that should be the chosen location; new Flaxby residents could walk and cycle to work and not burden the already-busy A59.

Unlike previous efforts by HBC to prepare a viable plan to meet the district's housing needs, this Local Plan has to be able to stand up to scrutiny. This is our first opportunity to examine the reasons why our historic villages are being chosen to disappear, which is contrary to the governments philosophy as to how new settlements should be created; stand-alone towns in their own right, not infringe on existing communities, build on prime agricultural land and exploit an already inadequate infrastructure.

We do think that the timing of this consultation is flawed however as we enter the holiday season, which minimises the opportunity for people to be involved; this further reinforces the strong feeling of many that there is a need for more transparency from the Council.   We were disappointed to see both the recent District Development Committee and this week's Cabinet meeting were cancelled at short notice, the former replaced with an informal, hastily convened meeting of participants. Both are key decision making forums at a crucial time in the planning process when we are keenly looking for answers to our very genuine concerns.

Let's hope that the full weight of public opinion – which is running very high – is truly taken into consideration.

However with new settlements, such as Green Hammerton, Cattal and Flaxby now being seriously considered by Harrogate Council, this should be seen as a positive move. Our recent event with local councillors confirmed that the current development proposals for the South and West of Harrogate are not sustainable, nor have the infrastructure to support. As such we look forward to the additional consultation in July and will certainly be making the views of our residents known.
The consultation will commence on Friday 14 July 2017 and run until Friday 25 August 2017.  During the consultation there will be a chance for the local community and other interested parties talk to officers from the council's Planning Policy team at a series of exhibitions being held across the district. The events will be taking place at:
Ripon Town Hall, Wednesday 19 July, 2-7pm
Green Hammerton Village Hall, Tuesday 25 July, 2-7pm
Gracious Street Methodist Hall, Knaresborough, Wednesday 26 July, 2-7pm
Boroughbridge Library, Thursday 27 July, 2-7pm
Wesley Centre, Harrogate, Saturday 29 July, 10am-2pm
Councillor Burnett added: The council has a responsibility to meet the district's needs for new homes and jobs, and our Local Plan will set out how we meet these needs. I

would encourage anyone who wants to comment on the additional sites or the preferred location of a new settlement to register their interest in taking part in this public consultation.

They will then be notified as soon as the consultation starts, and be able to view and comment on consultation materials and read the opinions of others.
To register for the next Local Plan public consultation please visit http://consult.harrogate.gov.uk/common/register.jsp
For those who have previously registered with the portal, or commented on earlier consultations on the Local Plan, there is no need to register again.