Harrogate Hospital paid tribute and thanks to their large team of volunteers today – 20 December 2013.
The hospital hosted tea party and long service awards for the volunteers.
St Aidan's School provided a choir and  the hospital a really exceptional spread of sandwiches, cakes and fancies from their own kitchens.
Sandra Dodson, the chair of Harrogate opened proceedings and paid her personal thanks. Andrew Jones MP then followed and addressed the party.
Andrew Jones MP said:

One of the ingredients in the success of this trust is the shear number of volunteers and the work that they all do.

It is a partnership, a partnership between voluntary and the professional, to create one team.

There are over 500 volunteers that support the trust with around 40% being under the age of 25

There is a real scale to what the volunteers do in the hospitals

I have seen and met many people here and I know that the professional team really value and are  truly appreciative of the volunteer team.

On behalf of them I want to say thank you to the volunteer team for making this hospital one of the best in country
Long Service Awards 2013
10 YEARS
Dennis Smith – Chaplaincy
Lilian Eyre – Friends
Mr & Mrs J Sugden – Friends
Mavis Clemmitt – Friends
Olive Sharratt – Hospital Volunteer
Doreen Ward – Breathe Easy
Brenda Rider – WRVS
Dorothy Farrar – WRVS
Marjorie Redmond – WRVS
Stephen Hakes – Hospital Radio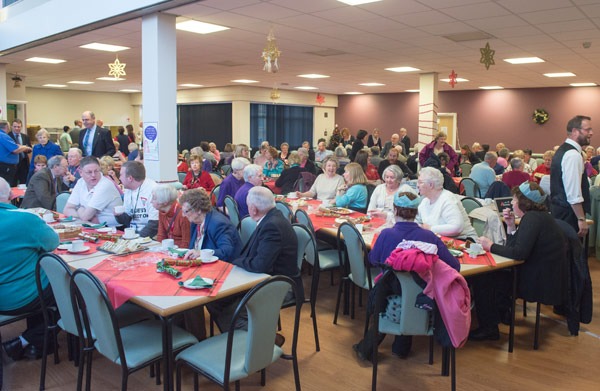 15 YEARS
Peternella Clarkson – Hospital Volunteer
Rosemary Fletcher – Friends
Muriel Wright – Friends
Gillian Tomlinson – Hospital Volunteer
Jenny Blackburn – Hospital Radio
Mel Clark – Heart Support
Gay Cruse – WRVS
Margaret March – WRVS
Veronica Matykiewicz – WRVS
20 YEARS
Olga Wright – Friends
Eileen Lindsay – Hospital Volunteer
Betty Waddington – WRVS
25 YEARS
Sue Wilcox – Harrogate BackCare
Keith Tippey – Harrogate BackCare
Pat Threlfall – Friends
Derrick England – Hospital Radio
30 YEARS
Sheila Betts – WRVS
35 YEARS
Andy Wilkinson – Friends
Ian Wighton – Hospital Radio
Margaret Lindsey – WRVS