Visitors to Nidd Gorge near Harrogate will see the benefits of a £28,000 facelift, with the Woodland Trust using grant funding to install new information boards, improve paths through the wood and make use of volunteers to carry out management and conservation work on site.
The completed works will enable visitors to learn more about the history of the 62 hectare wood and understand what wildlife is found within. Newly printed leaflets will also help plan walks through the site, with many well-used footpaths also being restored.
The cash boost was provided by WREN, a not for profit business which awards grants to community, environmental and heritage projects across the UK from funds donated by FCC Environment formally known as Waste Recycling Group (WRG) to the Landfill Communities Fund.
Mark Feather, Woodland Trust Site Manager, said:

The funding provided by WREN has enabled the Woodland Trust to make this beautiful woodland more accessible for visitors and also provide information to them about its history and diverse wildlife.

Thanks to volunteer support we've also been able to carry out many hours' of restoration and management to make Nidd Gorge an even better attraction for visitors.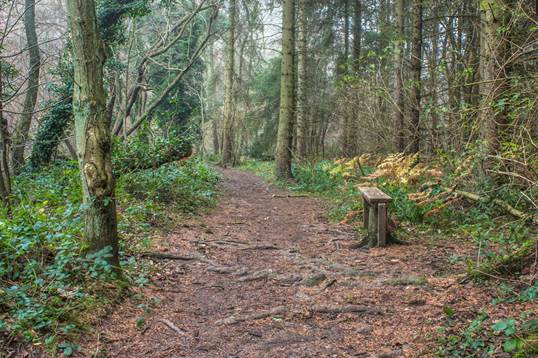 County Councillor David Simister (Ukip, Bilton & Nidd Gorge) said this was wonderful news and an early Christmas present to those who enjoy this beautiful area of Harrogate.
David added:

We are incredibly lucky having the Nidd Gorge on our doorstep.

I walk my dog here on a regular basis and I'm looking forward to seeing the improvements this grant will deliver.
The Trust worked closely with The Conservation Volunteers, which provided volunteer support over an 18 month period. Volunteers helped build new footpaths and clear invasive species which were overgrown in the wood.
Nidd Gorge is home to more than 80 species of birds, 30 species of mammals, reptiles and amphibians including bats, roe deer, tawny owls, herons and spotted and green woodpeckers. Ninety-one species of fungi have been identified in the gorge including puffballs, cup fungi, jelly and bracket fungi.
There are also a number of plants and flowers which can only be found in ancient woodland, among them nine species of fern, dog's mercury, wild garlic and bluebells.
To find out more information about Nidd Gorge visit woodlandtrust.org.uk/visiting-woods