McCarthy's announces growth in sales and square footage for storage business.
A Yorkshire firm is celebrating two years operating in Harrogate with the announcement of an expansion following a growth in sales.
McCarthy's Removals and Storage is celebrating a 40 per cent increase in sales in six months, and to meet the extra demand the company has introduced another 50 self storage units to its site on Ripon Road.
The family firm, which has been operating a removals and storage service in Leeds for 40 years, moved into Harrogate in 2011 with a storage facility. The site started with 10,000 sq ft and 140 units, which has now more than doubled to 25,000 sq ft and almost 300 storage rooms. Two new members of staff have also been taken on.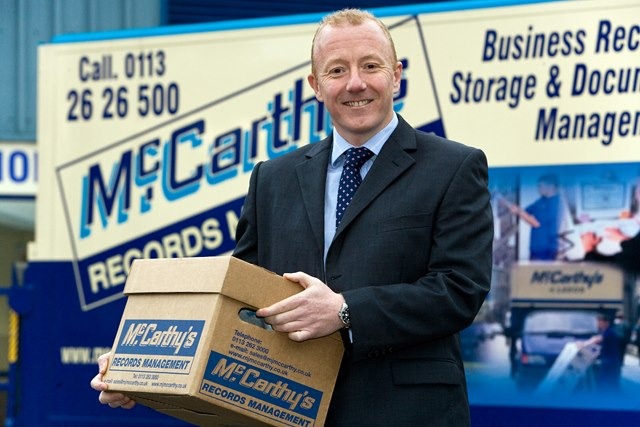 McCarthy's managing director Mike McCarthy says the surge of interest in storage units is for a number of reasons.
Mike McCarthy said:

We've been delighted with how well business has gone in Harrogate since we launched in the town two years ago.

Storage units can be taken for a number of reasons. Often it's a business looking for somewhere to safely keep surplus stock or store archives. Internet businesses trading on sites such as eBay are a growing market, as sometimes they don't have any physical premises of their own.

Other times the storage is used by homeowners looking to declutter their house, perhaps with a view to making it more sellable, or indeed in the current property market, many people are making the decision to sell their home, move into rented accommodation and then approach the market as a cash buyer. So in the meantime they want somewhere to store their possessions rather than unpacking everything multiple times.

With the extra demand we've experienced we decided to introduce another 50 new units in the popular drive up style, which means those renting them can access them independently any time of the day or night by driving their vehicle straight up to its door.
Prices for a self storage unit, which vary in size from that of a phone box to a tennis court, start from just £5. Unique pin code entry, CCTV and remote monitoring ensure the goods are kept secure and 24-hour access is available.
McCarthy's also offers a range of business services including archived storage and confidential document shredding.