Electrical Apprentice Jacob Graham has won the regional heats of a National Apprenticeship competition for a second year to find the nations most skilled Electrician.
Harrogate College hosted the regional Sparks and HIP National Apprentice of the Year competition recently as one of only six host colleges nationwide to find the UKs most talented electrician and plumber.
The competition saw Apprentice plumbers and electricians compete from Liverpool, Cumbria, Hull, Sheffield, Burnley and Leeds.
Apprentices competed in a series of timed practical activities while been assessed by a panel of judges. Each participant was given £100 worth of tools with the regional winner competing at the national competition for the chance to win £1000 of ScrewFix vouchers.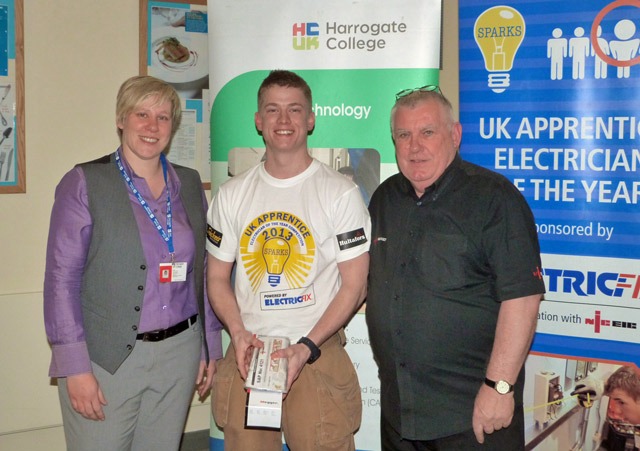 Jacob Graham represented Harrogate College at the competition testing his skills in electrical installation while working to industry standards. Congratulations to Jacob who has won the Electrical Apprentice 2013 regional competition as well as winning last year's regional heats competition.
The finalists from the regional heats will compete at Swindon College on the 8-9th May to be crowned National Apprentice of the Year 2013.
Apprentice Jacob Graham

Jacob who currently works for Scotton Park Electrical Contractors Ltd said:

I am pleased to compete and pit my skills against the other electrical apprentices for the region; it also gives me a chance to check out the quality of other peoples work and represent my college.
Tony Cable competition judge and NICEIC Senior Marketing and Event Engineer Said: "It was a very close competition but Jacob's work was clearly superior to the other entrants his all-round work was to a very high standard including his connections, clippings and plastic conduit work".
Electrical tutor Paul Le Boutillier said:

This is the second year that Jake has won the regional event. He has the ability to install to a very high standard quickly; most students can do one or the other! He is very excited about competing nationally at Swindon College in May.

Jake is in his final year at college so this is really his last big chance. We are already 'talent spotting' amongst our current students for the 2014 competition, keeping the momentum going now we are on a roll!