With just a week to go before nominations close for the 2012 Yorkshire Young Achievers Awards, previous winners are in the limelight once more.
Hot on the heels of four gold medals for previous winners at the London 2012 Olympic and Paralympic Games, three more are centre stage as they take part in the BBC's Strictly Come Dancing show. Kimberley Walsh (2010 Personality of the Year); Michael Vaughan (2002 Achievement in Sport winner) and Lisa Riley (1996 Personality of the Year) are taking to the dance floor for the popular series.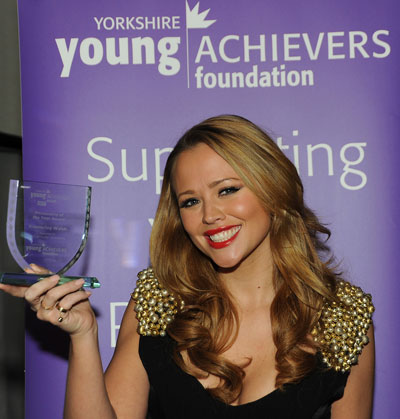 Meanwhile, last year's Achievement in Management and Enterprise winner, Tom van Zeller of Harrogate, has just been named Chef of the Year in the Yorkshire Life Food and Drink Awards.
Awards Chairman Peter McCormick OBE, of main sponsors McCormicks Solicitors, said:

This has been a fantastic year for previous winners and underlines what the Awards are all about: recognising young Yorkshire people who have made the grade through talent, hard work and dedication.
Nominations are still open for the 2012 Awards which take place on Thursday 29 November at the Leeds United Centenary Pavilion. The Awards, which celebrate their 20th anniversary this year, recognise outstanding young people in the region aged under 35 who have made an impact, whether nationally, regionally or locally. To date they have raised more than £900,000 for youngsters in Yorkshire. They are organised by the Yorkshire Young Achievers Foundation which supports projects for young people across the region.
The Awards are open to young people who live, work or were born in Yorkshire and celebrate achievements in the fields of business, sport, education and the arts, in overcoming adversity and achieving fame and fortune. Those with a lower profile have been brought into the limelight thanks to the Unsung Hero award, while there is always a Youngster of the Year to celebrate the achievement of a child under 12.
Nomination forms are available on the Awards website at www.yorkshireyoungachievers.co.uk or by ringing Sonia Jones at McCormicks Solicitors on 01423 530630. The closing date for entries is 28 September.