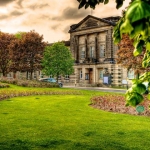 On Thursday, 19 July 2012, Harrogate Borough Council will bestow the Freedom of the Borough on Jonathan Wild, former Chairman and Chief Executive of Bettys and Taylors of Harrogate.
In Harrogate Borough Council's 128 year history, just 29 Freedom awards have been granted. Mr Wild will join a list of other eminent Freemen which includes The Rt Hon the Earl Jellicoe (Admiral of the Fleet); Stanley Baldwin (Prime Minister and First Lord of the Treasury); Chris Brown MBE, Lillian Mina MBE, Baroness Masham of Ilton and Mr Malcolm Neesam.
The honour of becoming a Freeman is the highest gift a local authority can bestow.
Council Leader, Councillor Anthony Alton, said the council has the power to confer the Freedom of the Borough upon "persons of distinction and who, in the council's opinion, have rendered eminent services to the Borough.
Councillor Anthony Alton added:

Bettys is synonymous with Harrogate. You can be anywhere in the world and say you come from Harrogate and most people will have heard of Bettys or even visited one of the company's establishments. When Jonathan announced his retirement we felt that his contribution should be marked by this high honour.

Under Jonathan's tenure, as the third generation to take the helm, Bettys and Taylors has flourished. The business has consistently been named as one of the country's Best 100 companies to work for, Yorkshire Tea is one of the nation's most popular tea brands, Taylors of Harrogate blends the best-selling roast and ground coffee in the UK and the firm has been recognised twice with the Queen's Award for Enterprise for Sustainable Development.

He's also recognised for his commitment to the environment. Jonathan promised his children in 1990 that he would plant one million trees around the world after they had been upset by watching a feature on Blue Peter about the destruction of rainforests. By 2007 the company had planted three million trees and went on to launch the Yorkshire Rainforest Project with a pledge to help protect an area of endangered rainforest the size of Yorkshire. Jonathan continues to inspire other businesses to take a lead on rainforest protection.
At the meeting on 19 July, Mr Wild will sign the Roll of Honorary Freeman and he will receive an illuminated scroll and Freeman's badge at a civic reception to be held later this summer.