PR agency, Acceleris has made a series of promotions across the team to support its growing client portfolio.
Simon Baylis and Emma Campbell move from Senior Account Manager to Account Director. In their new roles, Emma and Simon will continue to oversee client activity while focussing on supporting the agency's new business initiatives. Meanwhile, Chloe Ingham moves up the role of Account Manager.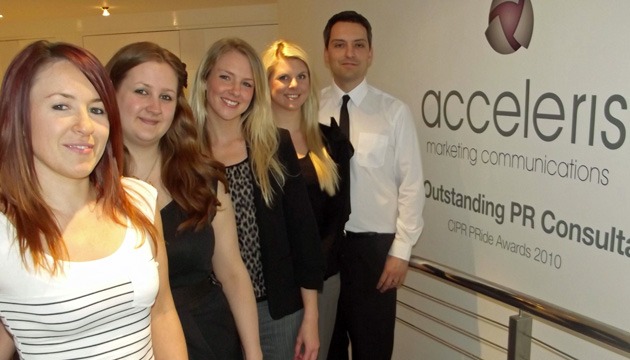 Promotions Galore (L-R) Emma Campbell, account director, Ellie Smith, senior account executive, Chloe Ingham, account manager, Rachael Hunter, senior account executive and Simon Baylis, account director.
Completing the raft of appointments, Ellie Smith and Rachael Hunter have moved up from Account Executive to Senior Account Executive taking on increased responsibility for day to day running of account activity for clients.
Managing Director Peter Davenport said:

These promotions are testament to and a valid reward for the team's hard work and dedication. The first six months of 2012 have been a fantastic success for the agency having significantly strengthened our national client portfolio. We will continue to invest in our growing team as the agency continues to develop.
Since January 2012 Acceleris has acquired seven new clients including leading fire safety provider Gerda, specialist rental business Adapted Vehicle Hire and parent company Nexus Vehicle Management as well as extending the work it carries out for leading services provider, Kier.
In March Acceleris appointed two new account executives, Jack Williams and Carys Samuel to further support the agency's growing portfolio.