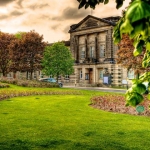 Harrogate Borough Council is working in partnership with the re-launched Manufacturing Advisory Service (MAS). MAS is funded by the Department for Business, Innovation & Skills (BIS) and supports manufacturers to streamline processes, reduce waste, become more energy efficient and generally improve and grow their business.
The council is working with the local MAS advisers to ensure that manufacturers in the district are aware of the support available to them, and encourage them to take advantage of the opportunities available.
Kathryn Daly, Acting Head of Property and Economic Development at  Harrogate Borough Council said:

Harrogate Borough Council is continually trying to increase and facilitate support for local businesses and there is a lot of support still out there that businesses might not be aware of, so we hope that by working with our partners such as the Manufacturing Advisory Service (MAS) we can make local businesses ( in this case manufacturers) aware of the support available.

Manufacturing is a key industry for Harrogate District that currently employs about 10% of the working population in the district, it is also a key focus of the Leeds City Region Local Enterprise Partnership and the Government, so we would encourage any local manufacturers in the district to make the most of these opportunities.
As well as offering a free helpdesk, training and research service, experienced advisors will carry out a hands-on assessment for small to medium sized enterprises. All initial advice is free of charge but MAS can also offer subsidised consultancy support to help businesses improve by highlighting areas of opportunity or actions to improve operational performance.
Find out more by contacting MAS on: Tel: 0845 658 9600 or Email: advice@mymas.org