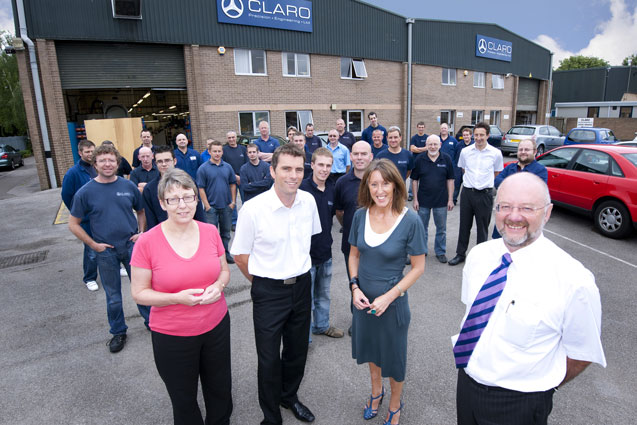 A Knaresborough-based company committed to delivering the highest standards of quality and supply has been recognised and praised by its industry peers. Claro Precision Engineering, specialists in the design and manufacture of machined components, has won 'Best Supply Chain Partner' at the MWP Advanced Manufacturing Awards 2012.
These bi-annual Awards are the highest profile fixture on the advanced technology calendar. Judged by some of the most influential and experienced engineers in British manufacturing, the Awards comprise 18 categories that identify and applaud outstanding achievements in the industry. Claro Precision Engineering was highlighted for its particular strength in combining in-house expertise and technology with meeting customer demands and priorities. The company excels in the manufacture and supply of high precision parts and assemblies for the aerospace, medical, laser and electronics industries, where accuracy and reliability are crucial.
Martin Doxey, Managing Director of Claro Precision Engineering said:

I know I speak on behalf of all our people to say we are absolutely thrilled to receive this award. It's recognition by a senior panel of industrialists of the hard work we all put in to ensure our customers are guaranteed a top quality supply chain.
From the company's on-site manufacturing facility on Manse Lane, components are produced in a range of materials, from Aluminium and Stainless Steel to Titanium and Plastics. Offering a full and comprehensive service, customers can also benefit from product design solutions and prototyping by an experienced team of Design Engineers.
Martin added:

We are committed to working in partnership with our customers and helping them build their business, whether that's through our expertise in product design or ensuring the most cost effective manufacture and supply to keep end prices competitive. We continually invest in our systems, our people and our technology to remain top of our game.
The MWP Advanced Manufacturing Awards were held at the Hilton Metropole, Birmingham NEC, and presented by comedian and TV personality Greg Davies from 'Mock the Week' and 'The Inbetweeners'. Claro Precision Engineering achieved this acknowledgment from alongside fellow finalists Beakbane in Worcestershire, and Mini Gears, Stockport.