This year's Acorn Sponsored 100k Charity Bike Ride drew a record 560 cyclists, raising a total of £33,000 for Acorn's two charities – helping people with dementia and their carers in the Ripon and Harrogate area and for research into scleroderma at Leeds General Infirmary.
There was a record number of cyclists at this year's Acorn Sponsored 100k Charity Bike Ride which took place on May 12th, beating last year's total by 20. The bike ride started at Bishop Monkton and followed a 100k circular route through Boroughbridge, Helperby, Easingwold, Sheriff Hutton, Linton on Ouse and Marton-cum-Grafton before returning to Bishop Monkton. The event involves 100 volunteers with lunch at Sheriff Hutton and tea and cake at the finishing point in Bishop Monkton. St John's Ambulance were on hand to deal with medical emergencies, Chevin Cycles of Otley with mechanical difficulties and signage was provided by HACS, Imageco Visual Signing and Marsland Timber. Lunch was generously sponsored by Greencore Group, Seabrooks and Zubrance and the whole event was sponsored for a sixth year by Lights4Fun.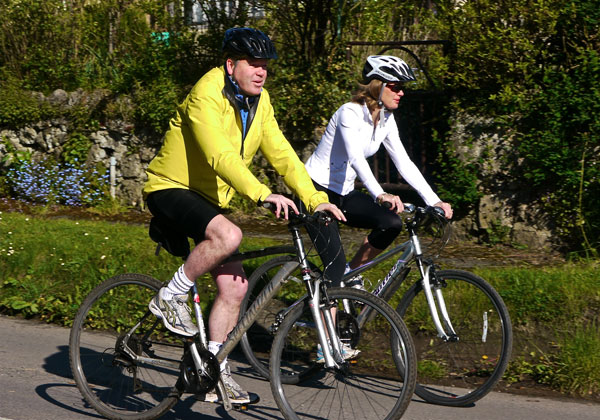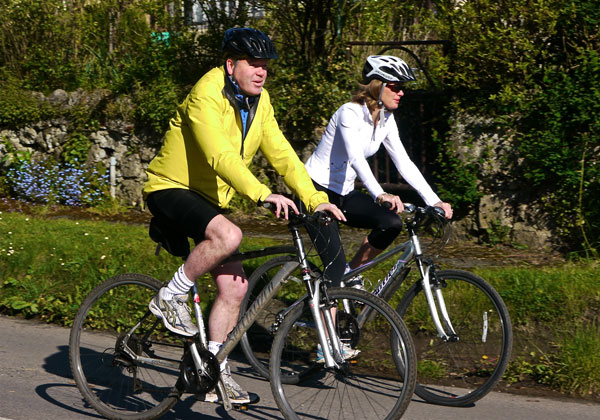 Simon and Sue Chew completing the 100k  Acorn Bike Ride
This was the sixth annual Acorn Sponsored Bike Ride which began as a challenge for Acorn supporters in 2007 and has now become a very popular date in the cyclists' calendar. Everyone is encouraged to join in from serious road cyclists to enthusiastic amateurs. Teams from local businesses and clubs included Imageco Visual, Oatlands Juniors, Slow Slowers, Madad's Army, Well Oiled Coggs and Blazing Saddles. Fastest riders on the day were Andy Bond, David Jefferies and Richard Chessman who completed the ride in 3 hours 2 minutes and the fastest lady was Alison Sarmiento, just fourteen minutes later. Also amongst the riders was Dementia Forward's wellbeing worker John Ashfield who accompanied cyclist Les Shepherd who has early onset dementia and completed the ride at his first attempt.
Acorn Chairman, Louise Hanen said:
This event has once again raised an extraordinary amount of money for our charities. In the six years of organising the bike ride, this event has raised over £177,000 for our charities and we are thrilled to announce that Acorn has now raised over £800,000 in its twelve year history. We are indebted to all the volunteers who help us to make this a fantastic event each year. The money locally with dementia and to continue important research into scleroderma at Leeds General Infirmary.'
Once all the sponsorship money has been received by Acorn, the cyclist generating the largest amount of sponsorship money will receive a ladies' or gents' mountain bike which has generously been donated by Chevin Cycles of Otley. Photographs of the Bike Ride are on Acorn's Facebook page.
Dementia Forward's John Ashfield with Les Shepherd and Acorn Chairman Louise Hanen
Louise Hanen, Chairman of Acorn, will be running with the Olympic Torch on Tuesday 19th June from 10.39am at Barkston Ash, South Milford. For details of how to come along and support her, please check the Acorn website www.acorncharity.org.uk