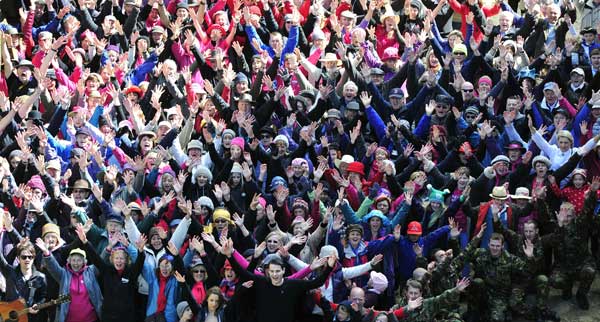 Hundreds of people joined off-duty soldiers from the Yorkshire Regiment on Ilkley Moor to take part in a music video for a reworking of Yorkshire's national anthem, On Ilkla Moor Baht 'At.
The tourism agency, Welcome to Yorkshire is behind the project which they hope will breathe new life into the piece of cultural heritage and introduce "On Ilkla Moor Baht 'At" to a younger, global audience.
The song has been produced by Artistic Producer on The X-Factor, Eliot Kennedy. The Sheffield-based songwriter has written and recorded with some of the world's biggest acts including Take That, the Spice Girls, Aretha Franklin, Celine Dion and Bryan Adams. He's also working with Gary Barlow recording the Queen's Jubilee song.
Eliot Kennedy said:
It's actually a beautiful song, it's a gorgeous song, you can't help sing along. It's been in my head all the time since we started this project. I think this song will last for decades. It's going to stand the test of time. I'm putting as much love and energy into this as any other record I do.
The new version of the song features a rap by famous Yorkshireman, Brian Blessed, soprano Lesley Garrett, the Grimethorpe Colliery Band, Fame Academy star, Alistair Griffin and the Yorkshire choir Rock Up and Sing.
Gary Verity, Chief Executive of Welcome to Yorkshire said:
We're really proud to be breathing new life into Yorkshire's national anthem. We hope it will capture the hearts of not only everyone in Yorkshire but also the UK and world-wide!
Welcome to Yorkshire and Harrogate agency Cause UK plan to launch the single as a charity song with all the profits going to the Yorkshire Air Ambulance and the Yorkshire Regiment.
The project originated with the Otley Brass Band who discovered that one in ten youngsters had never heard of the song "On Ilkla Moor Baht 'At".
Gordon Eddison, band leader of the Otley Brass Band, said:
The Band is very pleased that the campaign has developed so much to keep the song alive, it throws the spotlight onto Yorkshire's talent as well as raising money for charity.
The film has been supported by Bradford Metropolitan District Council and will be on You Tube later in the year.
A social media campaign has been launched and Welcome to Yorkshire is urging all fans of Yorkshire to go online and show their support on Twitter @yorkshireanthem and via the fan page: www.facebook.com/Yorkshireanthem