Bethany's Smile is inviting everyone to take part in their first fundraising event under the new charity name – The Walk Of Smiles Harrogate – which is to be held during Children's Hospice Week on 20 May 2012 – raising money for both Martin House Children's Hospice and Bethany's Smile.
The event is open to everyone and Registration is on the day from 9.30am at The Harrogate Arms, Crag Lane, Harrogate HG3 1QA where bacon sandwiches and drinks will be available.
Entertainment begins at 10.30am on a purpose built outdoor stage in the beautiful grounds of The Harrogate Arms.
Matthew Lewis (aka Neville Longbottom in Harry Potter) who has just been on TV in Kay Mellor's 'The Syndicate' and is currently filming another TV drama called 'Wastelands' has confirmed that he will joining all the walkers on the day.
The walk which measures around 6.5k and is suitable for all ages, pushchairs, wheelchairs (even dogs) will set off at 11.30am and everyone will follow the Smiley Faces which will direct the route. There will be a Free Refreshment break in the lovely Valley Gardens for all the walkers, sponsored by Harrogate Spring Water and Batley's Cash and Carry. Every walker will have their own bib number to wear.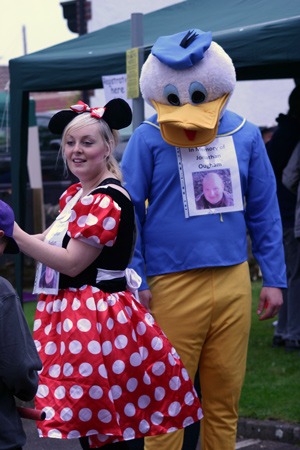 Everyone is invited to wear either an outfit to make people Smile or lots of colour and we have prizes for the best adult outfit and the best children's outfit! There will also be prizes for the adult and child who obtains the most sponsors.
On return to the Harrogate Arms there will be a huge 'After Party' to celebrate everyone coming together to support this great cause.
The party will include fabulous entertainment in to the evening, BBQ, Fire Engine, Fairground Ride (donated by Scott Pullen), Fantastic Raffle with amazing prizes, Tombola, Bouncy Castle, plus much more. Pinewoods Conservation Trust will also be teaching children how to build bat boxes and bird houses which will later be put up within the Pinewoods.
The owner of The Harrogate Arms will also be putting on a Falcon Flying Display.
Entertainment on the day is all provided by people giving their time free so please give them your support. The acts confirmed already are:
Sweet Charity – a girl group made up of 5 of the girls who played Orphans in the Christmas production of Annie at the West Yorkshire Playhouse  www.swingthingduo.co.uk – performing at 5pm
www.shrinkingviolets.net – performing at 4pm
www.youtube.com/watch?v=2v9Xpacvt4U – to watch George Mulryan interview re playing Jean Val Jean in Les Mis at Wakefield Theatre – performing at 10.45am
www.youtube.com/watch?v=fcwoltbaqQ4 – to watch Laura Ferrin interview re playing Fantine in Les Mis at Wakefield Theatre – performing between 2pm and 5pm
and Chloe Proctor, an amazing singer will be performing some solo songs and also group songs with some other professional singers/dancers
They also have some amazing dancers street, modern and more and Sophie Downham (played Cosette in Les Mis in West End and Paris and Annie at WYP) and Jack Downham (plays Noah Tate in Emmerdale) will also be performing just before Swing Thing in the afternoon. Eleanor Hemingway who played Tessie in Annie at WYP will also be performing.
Sam Crane (who a lot of people may know from her busking outside Harvey Nicols in Leeds will also be performing on the day too: www.youtube.com/watch?v=QYG-VOsA0Kg
There has been a lot of hard work put in to organising this event and all they need now is as many people as possible to get sponsored and join in – helping us to raise £000's for charity.
Sponsor Forms can be downloaded from the Events Page at www.bethanysmile.org or picked up from the Harrogate Arms or The Old Ball pub in Horsforth. If anyone would like more information they should email bethanyssmile@virginmedia.com. Donations to Bethany's Smile can be made at www.justgiving.com/bethanyssmile
This is going to be an amazing day of fundraising and partying. The Leeds walk in September raised over £10,000 – let's see if we can double this figure on 20 May 2012.
If anyone does not want to take part in the walk for any reason but will still like to come along and support the 'After Party' they are more than welcome.
80% of net proceeds raised on the day will be given to Martin House Children's Hospice and the remaining 20% will stay with Bethany's Smile which also supports the care of children with life limiting and life threatening illnesses outside the hospice environment.
———————————————————————————————————————————
More about the acts performing
Swing Thing Vocal Duo Tribute Act – Big Band, Rat Pack, Frank Sinatra and Michael Buble – Dean and Nathan play all the very best classic big band songs from all the above in one great show. They have been friends for over 20 years since they were both at Scala Performing Arts school together. Swing Thing Duo also performed at The Gavin Blythe (Emmerdale) Charity Ball in Manchester in February 2012.
The Shrinking Violets – a Harrogate based 6 piece professional function band who play classic pop, disco, funk and soul from the 60's to now
Laura Ferrin – An ex Scalakid, Laura is currently studying a three year musical theatre course at the Performance Preparation Academy, Guildford. A member of the North Yorkshire Dance Company for 5 years and also a proud member of the National Youth Music Theatre, appearing in 'Sweeney Todd' at West End Live, and playing Fantine in Les Mis at Wakefield Theatre. Laura says she is enormously proud to be a part of the Walk Of Smiles Harrogate in the town she loves and went to school in (St John Fisher/St Aidan's 2009-2011) and would like to encourage all that can to come along and raise money for a great cause.
George Mulryan – George is currently undergoing professional training in musical theatre at the Guildford School of Acting. Born and bred in Yorkshire, he is proud to be supporting the good work of both Martin House Children's Hospice and Bethany's Smile.In 2007 George performed at The Royal National Theatre London in D.N.A. which originated at teh Harrogate Theatre preceding a tour to the Georgian Theatre Royal, Richmond and The Brewery Arts Centre, Kendal. In 2011 he played Dad in Billy Elliott at the Alhambra Bradford, a role he reprised in the Billy Youth Showcase at the Victoria Palace, London. Musical theatre credits include Jean Valjean of Les Mis and Tony of West Side Story at the Theatre Royal Wakefield and Principal singer in Showstoppers – a variety show – at the Royal Hall, Harrogate. George has sung solo and chorus roles in Oratorio and choral works across the country. Throughout Summer George will be performing the role of Javert at the Edinburgh Fringe Festival in "Music of Les Miserables and West End Musicals".
Chloe Procter who is 18 years of age has been singing and acting for over 10 years and has performed in regional theatres throughout Yorkshire and at the London Royal Festival Hall. She has had many principle roles including the title role in 'Annie', Chava in 'Fiddler on the Roof', Maria in 'Sound of Music'. Her TV credits include 'Emmerdale' (playing Roxy Lockhart) and 'The Royal' (playing Louise Farnworth). Chloe attended Scala Performing Arts for over 6 years and on her final year was awarded the 'Stardom' Award. Last year she won a place from thousands of applicants to study at the highly acclaimed drama school 'Academy of Live and Recorded Arts' on a three year acting course. Chloe's ultimate ambitions are to eventually pursue a career in stage and screen.
Vicki Holmes – 20 years of age from Tingley, went to Woodkirk High School. She attended Scala for approx 5 years and has performed in many Wakefield youth productions over the last 10 years including – West Side Story, A Chorus Line, Taylor in High School Musical and the female lead Ariel in Footloose.
Been a member of Harrogate St Andrews Players for about 8 years performing in many shows including We Will Rock You,again playing Ariel in Footloose and playing female lead Sarah in Our House the Madness musical. She has also performed at many local theatres including Leeds Playhouse, Wakefield Theatre, Harrogate Theatre,Leeds City Varieties and the Bradford Alhambra where she recently played Alma in Ilkely Upstagers presentation of Summer Holiday.
Also for Upstagers she has performed in the annual pantomime, A Funny Thing Happened on the way To The Forum and played Gloria in Return to the forbidden Planet. Vicki will join Mountview Academy of Theatre Arts in London in September to Study a degree course in Musical Theatre.
The DJ/Presenter for the day is Austin Gill – Austin works in some of the most prestigious venues in Yorkshire hosting weddings, birthdays and christenings and is also a 'Neil Diamond' Tribute Act!!!