The early work of Dudley Edwards and his cohorts.
Friday 27th April – Saturday 26th May at RedHouse Originals Gallery, Harrogate
RedHouse Originals has announced details of a solo exhibition featuring the work of Pop Art pioneer Dudley Edwards.
This special collection includes the artist's work with Doug Binder as design collective BEV, collaborations with Mike McInnerney as OM Tentacle, and solo commissions undertaken for members of The Beatles in 1960s Swinging London.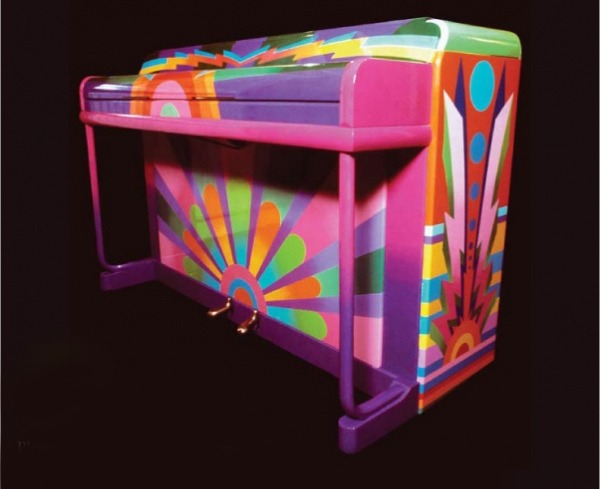 Edwards' background is fascinating; he first came to prominence in 1967 as a leading light in psychedelic Swinging London and quickly confirmed his legendary credentials as co-founder of pioneering Pop Art collective BEV alongside Doug Binder and David Vaughan.
Binder and Edwards were acclaimed as the first artists in Britain to produce painted furniture since the Omega Workshops 1913-20. A notable piece being Paul McCartney's iconic 'Magic Piano':
"I remember the first time I first saw a photo of their painted car in the Sunday Times Magazine and I thought it was really cool. I told them "I've got a little piano I'd like you to decorate in that same style"… It became my psychedelic piano which I wrote a lot of songs on, including "Sgt. Pepper's Lonely Hearts Club Band", "Fixing A Hole", and "Hey Jude". It's in its rightful place in my music room in London."
Paul McCartney
"IN TECHNICOLOUR" coincides with the publication of Electrical Banana – Masters of Psychedelic Art by Norman Hathaway and Dan Nadel. Sir Paul McCartney has contributed the foreword to the book which has been described as "the first definitive examination of the international language of psychedelia".
The exhibition at RedHouse will feature original paintings, rare pen and ink sketches and unique artefacts from throughout Edwards' astonishing career many of which will be going on public display for the first time. The exhibition will also see the unveiling of a suite of beautiful limited edition prints, created by the artist to mark the opening of the exhibition in Harrogate.
Dudley Edwards will be in attendance at the exhibition launch in Harrogate and will sign copies of the book on the night. Throughout April 2012 there will be further signings in New York, Los Angeles and London.
The exhibition continues until Saturday 26th May
RedHouse Originals and Dudley Edwards are proud to support The Friends of Alfie Martin and Medicins Sans Frontieres.
http://www.thefriendsofalfiemartin.co.uk