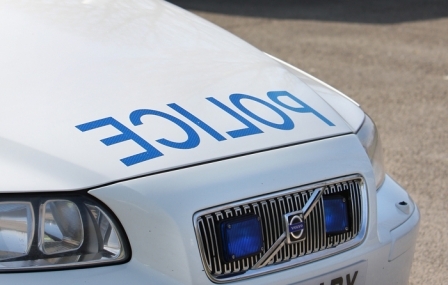 In the early hours of this morning at around 12.25am, North Yorkshire Police officers who were on patrol in Sherburn-in-Elmet became suspicious when they spotted a white transit van driving slowly near the industrial estate.
Officers attempted to stop the van which refused to stop and drove off at speed.
During the pursuit, the van braked suddenly and went into reverse. Although no contact with the pursuing police vehicle was made, an object was thrown at the police car which damaged the front grill.
The van then left at speed and continued on to the Sherburn by-pass and into South Milford.
The van stopped again and a male passenger got out of the vehicle and ran towards the police car with a metal bar.
The tactics of the police driver avoided any damage to the police vehicle.
The man got back in the van which continued at high speed through South Milford before stopping abruptly near the Swan pub and again reversing towards the police vehicle.
By this time, air support from West Yorkshire Police's helicopter joined in the pursuit, providing information from the air to officers on the ground.
The van continued on its journey at high speed travelling back to Sherburn, and while negotiating a bend, a heavy electrical sub-station generator fell from the van.
The vehicle then continued onto the B1222, underneath the A1 and onto the A1246, where the vehicle stopped and again reversed at high speed towards the police vehicle.
This time, the three occupants got out of the van and ran off into nearby woodland.
By 12.45am and with assistance from West Yorkshire Police's helicopter, all three occupants of the van had been arrested.
The arrested men are aged 26 and 43 from Bradford, and one aged 36 from Knottingley.
The 26-year-old was arrested on suspicion of dangerous driving and theft, the 36-year-old was arrested on suspicion of driving while disqualified, theft and possession of cannabis. The 43-year-old was arrested on suspicion of theft and criminal damage.
All three remain in police custody.
Safer Neighbourhood Commander for the Selby District, Chief Inspector Mark Iveson, said:
The investigation into the incident at Sherburn-in-Elmet is still in its very early stages so it would not be appropriate to comment directly on this case.

However, the determined police response to apprehend those suspected of committing crime in North Yorkshire sends a very clear message to anyone thinking of coming to North Yorkshire to commit crime: you are simply not welcome and will face the full brunt of the law.

The instinct and swift actions of all the officers involved in this incident are a credit to North Yorkshire Police. Our thanks also go to West Yorkshire Police's helicopter unit for their support during the incident.