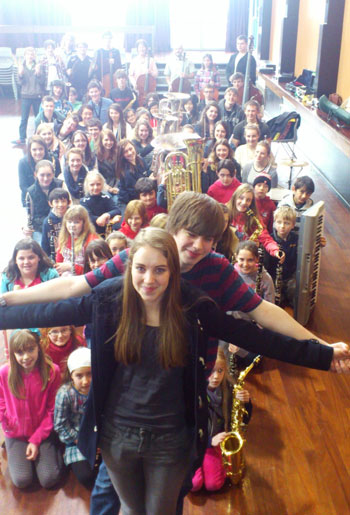 Harrogate has a special reason to remember the demise of the Titanic by way of a musical performance. Wallace Hartely was a violinist in the Harrogate Symphony Orchestra, based at the Royal Hall. He was also one of the violinists who was part of the quartet that sank with the ship 100 years ago this year.
Musicians from Harrogate Music Centre are preparing for a Concert in the Royal Hall in Harrogate to commemorate the sinking of the Titanic.
The concert will feature performances by the Music Centre Senior Band, directed by Duncan Else and the Phoenix Dance Company have been coaching dancers who have prepared dances especially for the event.
The second half of the concert will feature David Bedford's epic work "The Wreck of the Titanic" incorporating Blast Off! and Harrogate Youth Concert Orchestra (both of Harrogate Music Centre), the Pateley Posse, (St. Cuthbert's Primary School band) a Junior Choir and Chamber Choir of over 100 singers from Primary, Secondary and Special Schools in the Harrogate area, four vocal soloists and two narrators!
The concert promises to be a spectacular event with art work in the foyer (make sure you don't hit the iceberg) and the Aqua string quartet will entertain the audience in the interval.
The event starts at 7pm on March 29. Tickets are available at the Harrogate Theatre box office on 01423 502116 or online at www.harrogatetheatre.co.uk priced £5, £3 for concessions and £9 for a family ticket of three.