A five-strong team from Harrogate is raising funds for the 'Help for Heroes' charity by tackling Tough Mudder; what is billed as 'probably the toughest event on the planet' in Kettering, Northamptonshire on Saturday 12 May 2012.
Headed up by Janelle Yeates, 49, gym manager of Gambaru Fitness based on Station Parade, the team will be confronting the 10-12 mile endurance event obstacle course in a true test of all round strength, stamina and mental grit, that has been designed by British Special Forces along with some 5,000 other entrants.
The team all work or train at Gambaru Fitness and were inspired by the Japanese meaning of Gambaru, which translates as 'to do your best no matter what your ability'. Already having achieved sporting success in her own right, Janelle is two-time British Powerlifting Champion and the driving force behind Team Gambaru's participation in Tough Mudder.
Looking for a new challenge that wasn't a typical marathon, where fun could be had by all and where team work was key to success, Janelle decided that Tough Mudder would be great for fitness enthusiasts to come together and train for a challenge that would push them to the very limits of their endurance. Sam Dunne (27), Andy Quirk (22), Pete Mercer (36), and Carl Iles (36) were inspired by Janelle's enthusiasm to sign up to the challenge, and the five-strong team have been training hard together for the past two months. You might have seen them sliding down ditches, jumping over huge fences or crawling through muddy puddles whilst carrying weighted backpacks!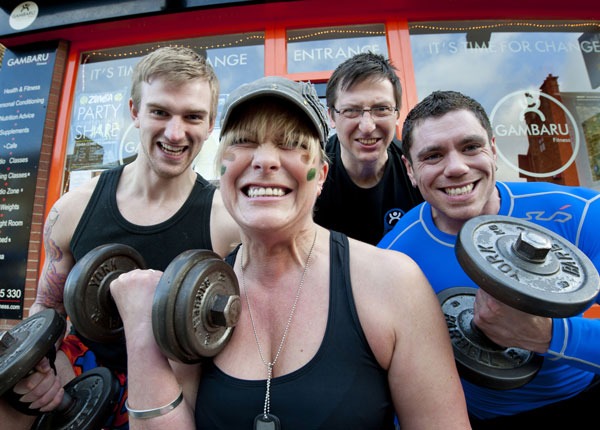 The Help for Heroes charity is close to Janelle's heart as her partner has completed two tours of Afghanistan with 1 Rifles. Having seen friends return to the UK with horrific injuries, and some not return home at all, Janelle knows the importance of the work the charity does.
Says Janelle:
I worked for the MOD for six years, and have seen how much help those who have been wounded in the service of their country need. By supporting Help for Heroes we are doing our bit to show the servicemen and women they are cared and appreciated. By running Tough Mudder, we'll unlock a true sense of accomplishment, have a great time, and discover a camaraderie that's experienced all too rarely these days.
Team Gambaru will be running alongside current servicemen and women, amputees and those who have overcome huge personal challenges in their own lives as well as every day people from all walks of life.
As the team's leader, Janelle maintains the belief that failure is not in losing, but in quitting. Tough Mudder is equally hard for men and women – there are no grounds for discrimination here, and it is certainly not an event just for the boys!
To find out more about the Tough Mudder challenge or to sponsor the Harrogate team should call in to Gamabru Fitness or go to www.toughmudder.co.uk or www.bmycharity.com/toughmudderyeates