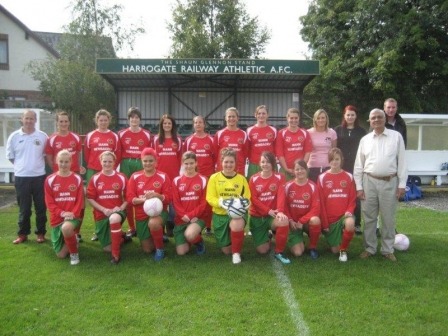 Harrogate Railway Ladies were at home this week in the league against Brayton Belles and came away with a comfortable 8-0 win.
It took only 5 minutes for Railway to score when Hannah Campbell broke through to the touch line , pulled the pass back and Sandra Clark (Sonic) came in from the left and slotted it in the net 1-0. Brayton pulled themselves together and put some good pressure on Railway and 5 minutes later came very close to scoring only for rails keeper to pull out her first of many great saves.
From midfield railway played the ball out wide to Hannah, she then went on a solo run past 3 tackles and drove the ball into the near post 2-0. Brayton again pushed forward creating chances but to no avail as railways defence held strong, when left back Ali Purvis cleared the lines, finding Jodi Hodgson in the middle Jodi played the ball over the top for Dee Swales to run onto and drive the ball past the Brayton keeper, 3-0 half time.
When the second half started Railway showed no sign off easing up and on the 49th minute Brayton cleared their lines only as far as Jodie who from 30yrds out screamed the ball into the top right corner 4-0. This shook Brayton and things got a bit physical from here on in, at the 58th minute mark Nicola Hadley was brought down in the box, penalty. Nicola stepped up to the mark but sent the ball over the top ! however railway were first to the goal kick, played it out wide, the cross came in and Nicola on the edge of the box, volleyed in the goal of the day 5-0.
Brayton by now were willing the clock to speed up but railway were out for more goals on the 63rd minute Jodi bagged her second with a fine shot 6-0. Hannah was fouled 6 minutes later, again in the box, penalty number 2, no miss this time as Hannah cleanly beat the keeper 7-0.
The Railway ladies played some great passing football, from the full backs to the strikers putting constant pressure on Brayton and with 10 minutes to go player of the match Nicola Hadley grabbed her 2nd to make it 8-0.
A good solid performance from all the Railway players which puts them in good stead for next weeks league cup semi-final, to be played at the dagger, 1-30 KO on Sunday 18th March