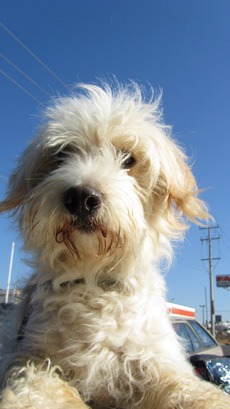 Dogs Trust, the UK's largest dog welfare charity, which has a rehoming centre located between York and Leeds, is calling on dog-lovers from across Yorkshire to nominate their hairy heroes for a prestigious Dogs Trust Honour at www.dogstrusthonours.co.uk
Now in its fifth and most fabulous year, the 2012 Dogs Trust Honours is an awards ceremony that celebrates the difference dogs make to our lives, by highlighting heart-warming stories of devotion and courage.
The 2011 event saw an amazing response from Yorkshire, with crossbreed Spud from Leeds being named a finalist in the Dogged Devotion category. Spud was recognised for the incredible love and support he gives owner Adam, a former soldier who was injured in the 2003 Iraq war.
Dogs Trust Leeds manager Amanda Sands said:
At Dogs Trust Leeds we know first-hand the wonderful ability dogs have to lift our spirits, make us laugh, respond to our emotions and act as canine lifelines. We now want Yorkshire dog lovers and owners to share their incredible stories of canine bravery, devotion and humour – marvellous mutts need now apply!

The winning VIPs (Very Important Pooches) will be the guests of honour at what promises to be the most yapped about event of the summer.
A panel of celebrity dog-lovers has the hard job of selecting the deserving winners who will be presented with their awards at the star-studded Dogs Trust Honours ceremony, at the Honourable Artillery Company in London on 21st May 2012.
To nominate a dog visit www.dogstrusthonours.co.uk or send details and high res photo to awards@dogstrust.org.uk .
You may also nominate via letter to Dogs Trust Honours, 17 Wakley Street, London EC1V 7RQ.