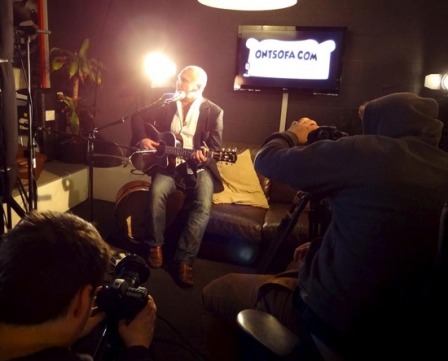 A new project has launched in Harrogate with the aim of encouraging raw and unsigned musical talent.
Ont' Sofa is the idea of Ben Davis and Jason Odle who were previously known for raising over £15,000 for Saint Michaels Hospice through spending a week living in a shop window.
Ben Davis said:
We are looking for raw, original talent to perform and to develop a platform for new unsigned music. There has been a great response already and we are already filling a diary with bookings.
Jason explained where the name came from:
The URL was cheaper for Ont' Sofa than for on the sofa, plus we thought that Ont' Sofa was more Yorkshire.

At the moment we are not sure how in the longer term we are going to finance this. It would be great to have financial support though.

The quality of the acts coming to us to perform has been amazing. There are also future plans to take the sofa on tour, with some acts too of course.
The impromptu studio has been setup in their office that is still used for their media advertising business. The area that was once an area for meeting new business clients has been transformed. Both Ben and Jason are not exactly novices at this sort of thing though, Ben has worked in concert audio/visual production for many years and Jason is a talented musician himself and operated Bash Studios.
Singer/ songwriter Rob Reynolds (pictured) has been one of the first acts to perform. Rob originally comes from Harrogate but now splits his time between Harrogate and London managing his busy and successful music career.
Ben said:
Rob is a good friend and I have worked with him over the last few years, I respect him immensely.

We were delighted though when he agreed to do session with us.

There are lots more videos on there way.Hopefully we will publish a new video each day.
See the Ont' Sofa Facebook page or email play@ontsofa.com for further details.
Ben Davies: