St John Fisher Catholic High School is celebrating its achievement of the International School Award. The highly regarded status, awarded by the British Council, recognises a global dimension in the learning experience of all St John Fisher students through an outstanding programme of activities and opportunities that aim to educate about different cultures and countries.
Developed over 3 years by International Coordinator Helen Keelan-Edwards (pictured with St John Fisher Headteacher Paul Jackson), the school's international work includes special events within school, and link exchanges with schools in Europe and beyond. The award also recognises the broad range of opportunities available to students through the school's extensive programme of international visits and trips.
Within the school, international projects involve schemes such as 'World Toilet Day', which focuses on  global access to basic sanitation, 'International Day' in which students can try activities such as Chinese ribbon dancing, karate and Bollywood dancing, and 'International Environment Week', during which pupils learn about global climate change issues in lessons.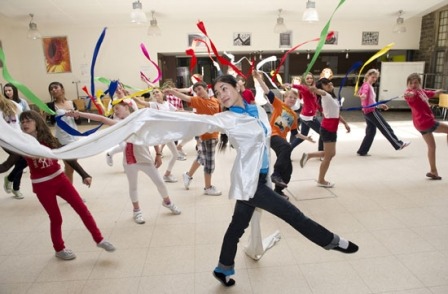 Internationally, links have been made with European schools through the 'Comenius Project', a scheme run by the British Council. Students from St John Fisher have had the opportunity to visit Cyprus, Bulgaria, Hungary and Italy as part of the project. Students from all schools involved are invited to a reciprocal event, which will be hosted at St John Fisher in April 2012.
International links have also been developed with a school in Ghana. In 2010, 26 students and 3 staff spent three weeks in Ghana helping the Ghanaian students and staff to set up a new school. In 2012 21 students will return to the school to continue the good work started and help maintain the wonderful friendships that have been established by both staff and pupils.
Mrs Keelan-Edwards explained:
The school is incredibly proud of our students' positive attitude to learning about other cultures. We are delighted that our international work has been officially recognised.

We believe celebrating difference and diversity encourages personal development and enhances academic performance.