An incident at Jennyfields electricity power substation caused extensive power cuts in Harrogate today (17th Dec 11)
Fire crews were called to the substation at just after 2pm today with smoke coming from one of the 11KV switch rooms adjacent to the main substation.
The incident caused tripping throughout the HG1 and HG2 region with associated power cuts. Although the majority of consumers now have power back on, the Academy Health club and some houses in the immediate vicinity remain in darkness.
Many shops and restaurants were forced to close early, on a day that was set to be one of the busiest shopping days of the year.
Cars were stuck in car parks due to ticket machines and barriers not functioning.
There was also concern around events happening at both the Harrogate Theatre and the Harrogate International Centre. Luckily both events happened once power was restored although both were close to being cancelled.
VIDEO: Harrogate substation fire that caused widespread power outages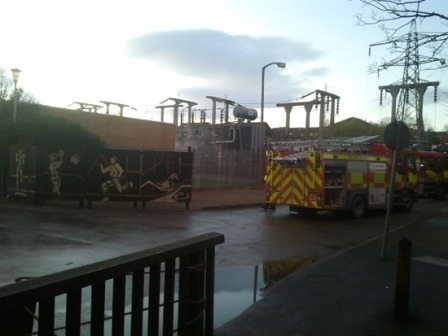 Jennyfields substation showing smoke billowing from the switch room (photo by Chris Geldart)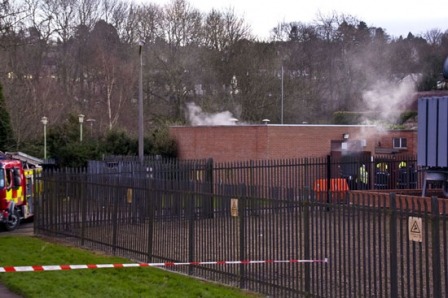 Jennyfields substation (photo by Steve Martin)
Harrogate fire crews used 4 breathing apparatus, small tools and a CO extinguisher in an attempt to gain access to the switch unit.
Power engineers are currently investigating the incident on-site. It is apparent that there was one 11KV circuit that has suffered extensive fire damage. We are expecting to provide a more detailed update later this evening.
Jennyfields substation 11KV Switchroom showing the damaged switchgear (centre of image)
 Switchgear showing extensive fire damage