A Government department has thrown its weight behind a major environmental project to reintroduce wild salmon back to the River Ure.
Local landowners – supported by Masham-based T&R Theakston Ltd – have formed the Ure Salmon Trust, whose aim is to see the River Ure becoming one of England's premier salmon fishing rivers for the first time in more than a century.
The Trust, who worked closely with the Environment Agency, have now won recognition for their six-year environmental and ecological initiative from the Department of Environment, Food and Rural Affairs (Defra).
A Defra spokesman said:
Defra fully encourage projects that seek to restore fisheries to benefit the ecology, recreation and economic status of river catchments.

This is in alignment with our objectives for salmon fisheries, as well as an objective realised through the work of the Environment Agency, who are the Government's delivery body for migratory and freshwater fisheries.

We understand that the Ure Salmon Trust has been working with the Environment Agency to achieve its aims and we would urge you to continue to utilise the Agency's expertise in this area.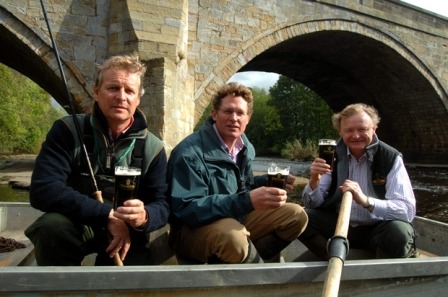 Fish & Sips! Theakston's Executive Director Simon Theakston, (right) Ure Salmon Trust members Chris Bilbrough (left) and Richard Bourne-Arton toast Theakston's sponsorship of the project 
Ure Salmon Trust co-founder Christopher Bilborough said:
Having our efforts recognised by Defra is very welcome news indeed – it's a real shot in the arm for all involved.

This project has initially been funded by a small number of individuals and local businesses and, over the next six years, we are aiming to raise £100,000 annually.

We hope Defra's endorsement will help attract further financial support to help us achieve our goal.
Simon Theakston, executive director of Masham-based T&R Theakston, one of the project's major sponsors, said:
We are proud to be backing the Ure Salmon Trust project as we recognise the economic, environmental and ecological benefits it will bring.

I'm delighted that Defra has recognised the importance of the project and in turn we hope other businesses will join us on board too.

The Prime Minister keeps talking about the "big society'. This project ticks all those boxes. It's privately-funded, will create jobs, increase tourism and benefit a wide number of business – from fishing shops to pubs, restaurants and guest houses. It's a brilliant initiative.
Details about the Ure Salmon Trust can be found on its website www.uresalmon.co.uk