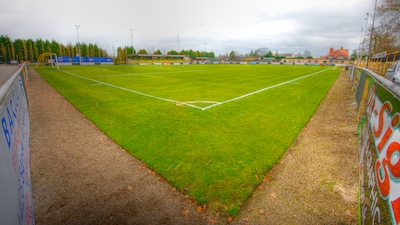 A spirited second half fightback couldn't prevent Harrogate going down 2-0 to Nuneaton.
After some initial sparring, Paul Brayson sent Alex Meechan away down the left but his searching cross was headed clear.
Town kept up the pressure and Will Turl's header was helped on to Meechan by Brayson. only for Neil Collett in the visitor's goal to dive bravely at his feet.
Nuneaton began to make inroads into the Town defence with Danny Glover shooting wide and Graham Ward hitting the post.
On 28 minutes, Harrogate suffered a serious blow when the returning Richard Pell suffered a facial injury and was replaced by Ian Ross.
Town's new keeper Ben Wilson did well to turn Glover's low drive round the post after being played in by Ben Pugh,then Simon Forsdick ran through unchallenged but shot wide as Nuneaton began to capitalise on Pell's absence. Home skipper, Jake Picton  made several telling tackles as Town held the visitor's attacks.
Unfortunately, Town fell behind to the last action of the half, when Wilson's misdirected punch was scrambled away, only to be forced in by Guy Hadland.
At the restart Town took the game to Nuneaton and were unlucky not to level when Peter Bore's low cross was met by Brayson who hit the upright.
Graham Ward almost sliced through his own goal as Town kept up the pressure.
Harrogate's good approach play often floundered on the strong Nuneaton defence,because of a tendency to over elaborate.
As the game reached it's climax, sub Jonny Allan found Bore on the wing, he pulled the ball back to Brayson, but his close range effort was blocked by Nuneaton.
The four added minutes saw Brayson place a free kick over the crossbar,then Nuneaton made it two at the death,when Wesley York broke clear and Danny Glover sidefooted home from his centre.
Harrogate 1 Wilson 2 Darville 3 Heckingbottom 4 Ashworth 5 Pell(Ross28) 6 Picton (c) 7 Bore 8 Dean 9 Brayson 10 Turl(Allan66)
11 Meechan(Radcliffe59)
Subs unused 15 Beesley 16 Elam     Bookings nil
Attendance 394