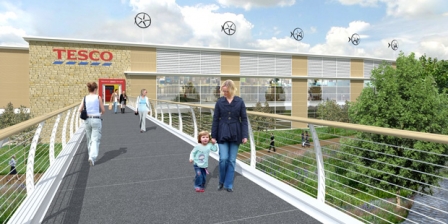 The resolution of Harrogate Borough Council's Planning Committee on 6 September 2012 to approve the proposal by Tesco Stores Limited to erect a superstore on a site off Skipton Road, Harrogate, was subject to the referral of the application to the Health and Safety Executive (HSE), consultation with the Secretary of State and the completion of an Agreement under Section 106 of the Town and Country Planning Act.
On 20 September 2011, the HSE confirmed that it would not be requesting the Secretary of State to call in the application.
In accordance with the requirements of Circular 02/2009, the council has now consulted the Secretary of State to give him an opportunity to consider whether or not to call in the application for his own determination given the nature of the proposal.
The council wrote to the Secretary of State on Wednesday, 26 October and he has a period of 21 days from the date he receives the council's letter of consultation to notify the council of his intentions.