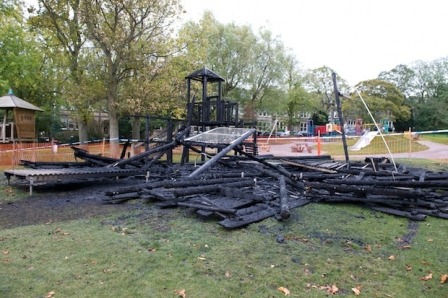 At 2:30am on 8th October 2011, Fire Crews extinguished a fire on a large wooden fort in the play area of Valley Gardens. As a result of the fire the fort sustained 100% fire damage (an area of 100sqmetres)
All that now remains is a large amount of charred timber. The adjacent trees also show a degree of burning to branches some 20 feet up, giving an indication over the ferocity of the blaze.
The area has remained cordoned off throughout the morning as the incident is investigated by Crime Scene Investigation (CSI), CID and Fire Service inspectors. The Police are also conducting an information gathering exercise.
Door to door enquiries have commenced on residents on Valley Drive to gain witness statements and the area is being extensively searched for further evidence. Don Mackenzie, leading of Harrogate Council said:
If this is indeed a case of arson, which seems likely, then we all have every right to be very angry indeed. This is a very popular play area, which provides so much fun and enjoyment for our children. We simply cannot tolerate such mindless vandalism and will take whatever steps are needed to help catch the culprits. Better security arrangements for Valley Gardens during the hours of darkness may be needed.
Councillor Caroline Bayliss the Cabinet Member for Cultural services travelled straight to Valley Gardens as soon as she heard the news. Councillor Bayliss has been a key figure in developing Valley Gardens and the new Skate Park and was visibly upset. Councillor Caroline Bayliss Cabinet Member for Cultural Services said:
This is one of the best children's playgrounds in the country and we are just very shocked and sorry for what has happened. The Council will do all we can to replace it as soon as possible.
Enquiries remain ongoing to examine the full circumstances surrounding the incident and police are carrying out patrols in the area to reassurance the local community and visitors to the park. The Police have made an appeal for witness with any information in relation to this incident. If you were in the area of Valley Gardens in the early hours of this morning or you have have other information then please call Harrogate Police on 0845 60 60 247