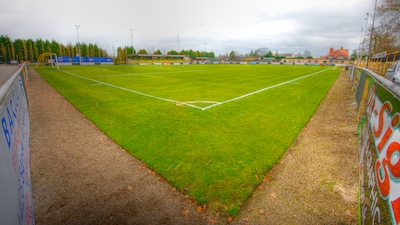 Town and Frickley have to battle it out again at the CNG Stadium on Tuesday to see who progresses in the F A Cup.
On an unseasonally hot afternoon, Town, playing with a swirling wind at their backs, penned Frickley into their own half.
Things looked rosy for Town, when after 12 minutes,Adam Billard, in the home goal,could only parry an Ian Ross drive into the path of Will Turl, who hammered in his first goal for Town.
This stung Frickley in to action and Mallon's free kick fell to Ashmore whose shot was diverted over the bar.
Early Frickley substitute Grant Darley then tested Zac Jones with a shot on the turn.
An excellent move by Town saw Turl set up Laurie Wilson whose shot skimmed the home bar.
Jake Picton's slip in midfield let in Brad Grayson but Jones was quickly off his line to block his shot.
It was Town's turn to press, with Stephen Turnbull driving a 40th minute free kick at Billard.
However, a minute before the break, Ryan Mallon's free kick was turned in by Darley to level the scores.
Harrogate almost hit back immediatley with Billard brilliantly tipping Ross's goalbound free kick over the bar.
The second half was a more open affair as the heat took it's toll and both sides were glad as Referee Alf Greenwood allowed a water break.
Frickley threatened and Kelvin Bleau intercepted Turl's wayward pass, made ground,but shot wide.
Liam Hardy replaced Ross and Johnny Allan made a welcome return replacing Turl as Town sought the winner.
As the game reached it's closing stages it was Frickley who looked the more dangerous, with both Lincoln Adams and Grayson just failing to connect with low crosses.
Town, with Pell and Picton winning everything in the air, held on to go into Monday's draw.
Harrogate Town 1 Jones 2 Darville 3 Radcliffe 4 Ross(Hardy 60) 5 Pell 6 Picton (c) 7 Elam 8 Wilson 9 Turl( Allan 82) 10 Bore 11 Turnbull Subs 14 Bloomer(rep Hardy 90) 15 Heckingbottom 16 Ashworth 18 Cohen
Bookings nil
Attendance 278